I've always liked Cracow and never miss a chance to visit it, especially now, when Ryanair offers cheap flights from Berlin. If you are lucky, you can get a return ticket for as little as 15 EUR and you can get from Berlin to the former capital of Poland in just an hour!
This time I made it a girls' weekend out. Travelling with two little ladies aged 9 months and 5 years was not the easiest choice but I managed 🙂
We spent in Cracow three days, each fully planned, of course, but – as always – had to adjust the pace to my girls' needs, so we only saw a part of what was on my agenda. I'm not disappointed: it only means I already have a plan ready for our next visit!
What I wanted to see?
Muzeum Etnograficzne (The Ethnographic Museum) – it might not seem like an obvious choice for a visit with kids but give it a try and you might be pleasantly surprised. The first attraction awaits you already in front of the museum: it's a small but creative playground, which kept Roma busy for a while.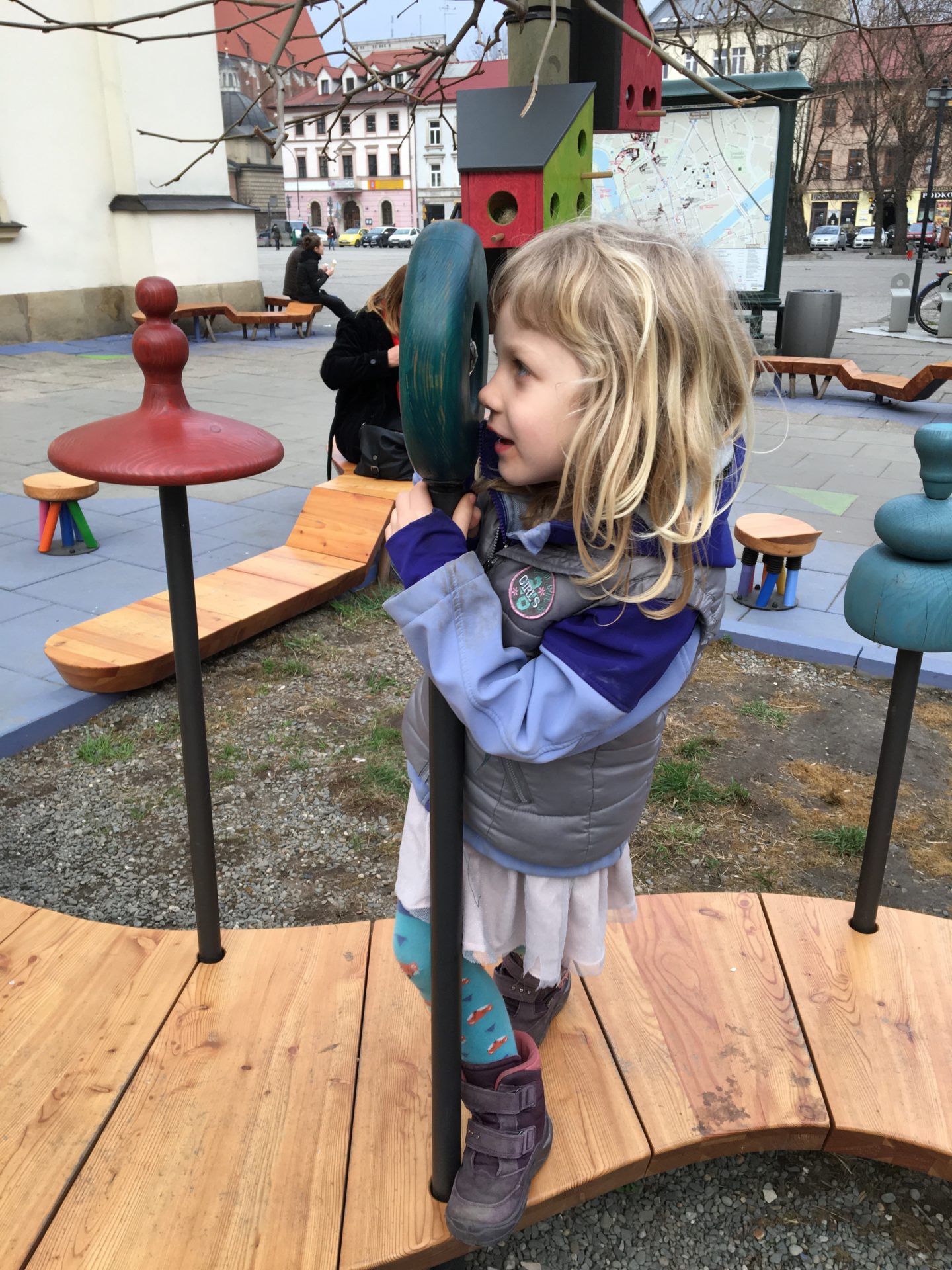 The lady at the ticket office was very nice and helpful. She advised [a]us to buy the so-called etnościeżka (etno-guide), i.e. a set of cards for independent sightseeing. It only costed 5 PLN and was definitely money well spent. There are two sets available and each of the guides leads you and our kids a different way through the museum. The cards are really great – beautifully illustrated and with interesting descriptions. Roma really loved them and enthusiastically moved from one numbered station to another. Don't worry about the language barrier – there is an English version too!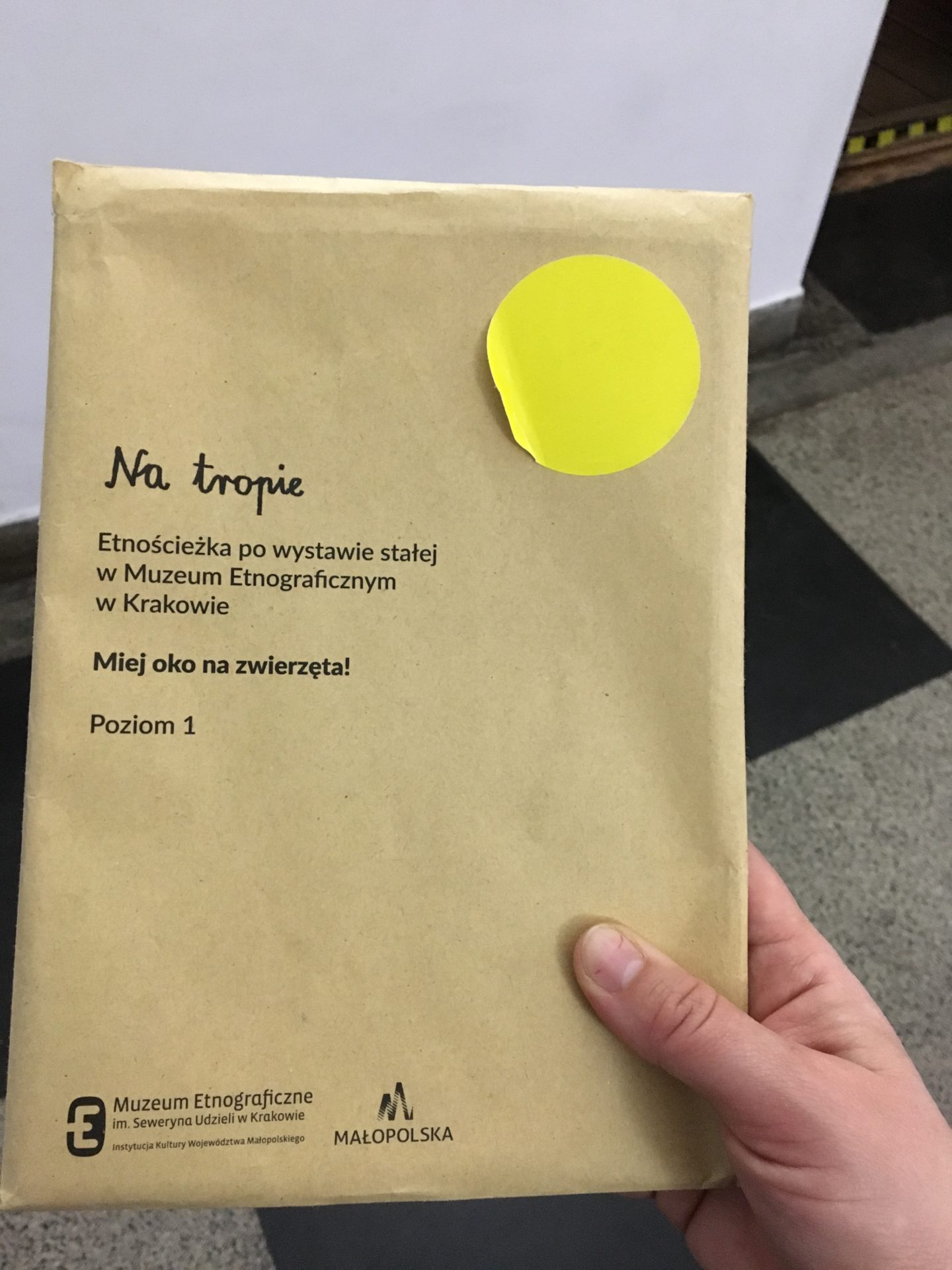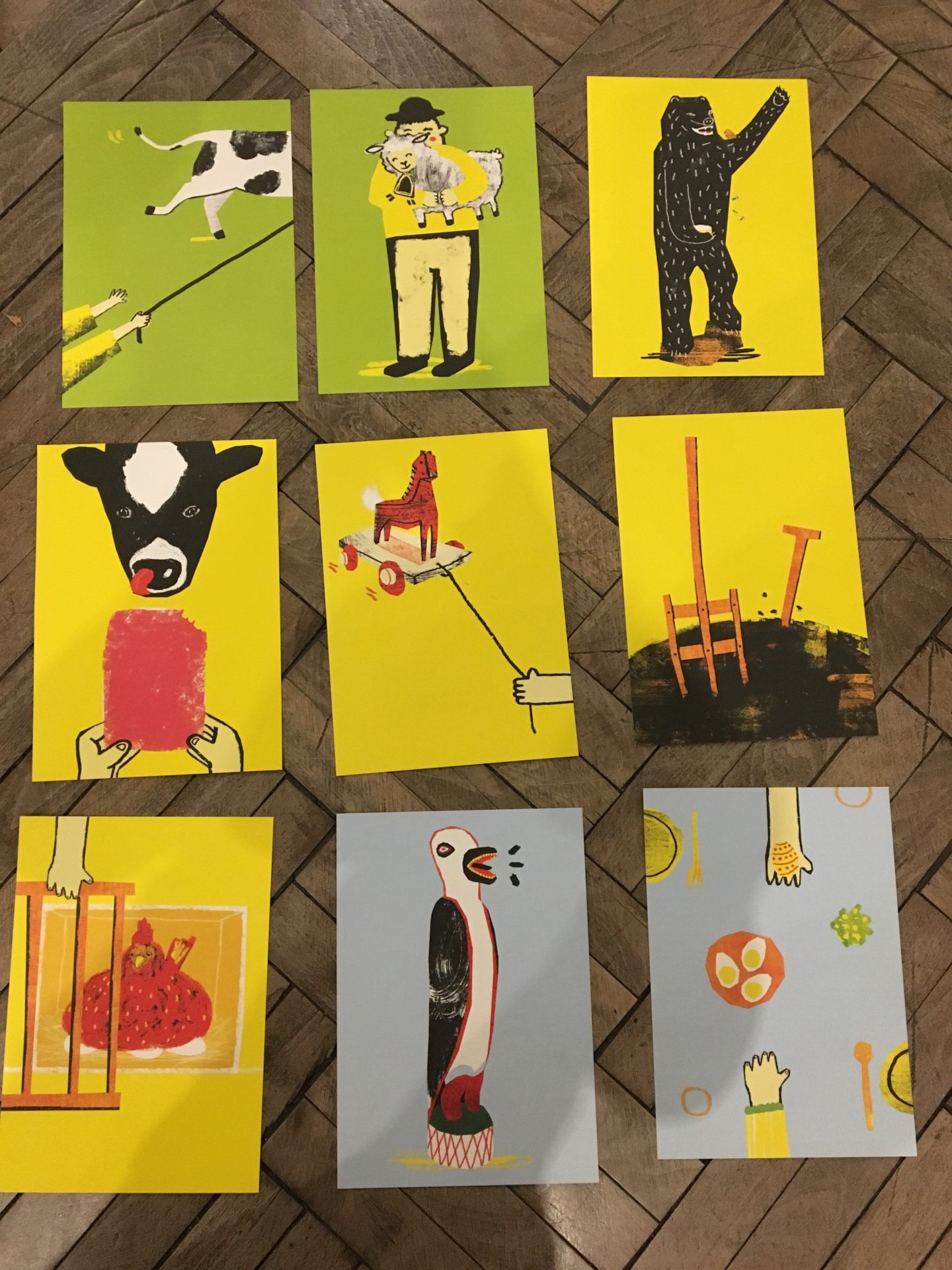 The Museum also conducts workshops for the youngest and we were lucky enough to take part in one of them (only by accident and not even in the whole of it but Roma was very happy).
It might not be the most modern museum I've ever been to and some of the exhibits may seem not that interesting but one of the rooms is very modern (brand new) and the museum is really well prepared to receive the youngest visitors: there are landings and cushions, and a room where you can see meticulously painted easter eggs or learn about eastern customs.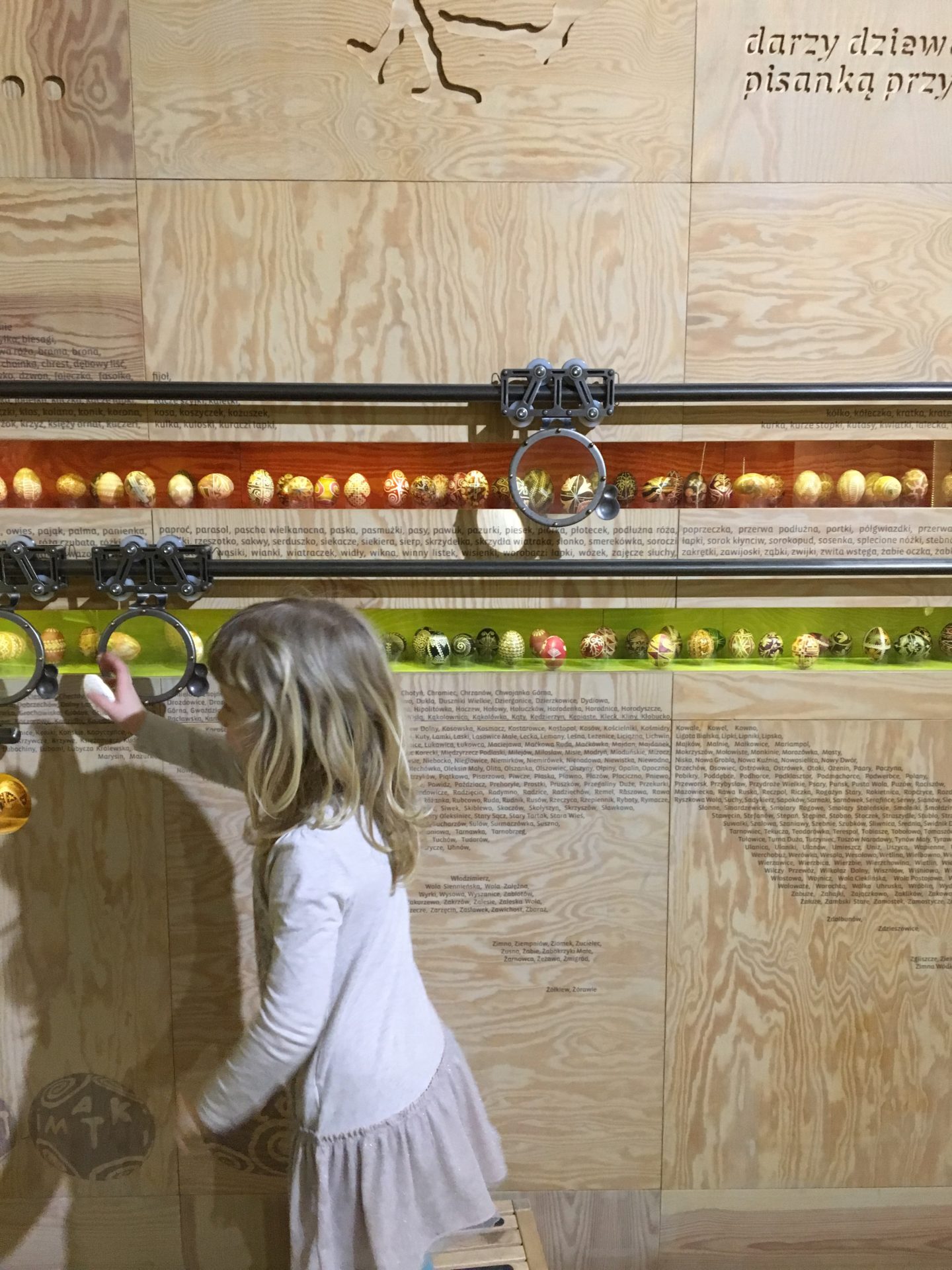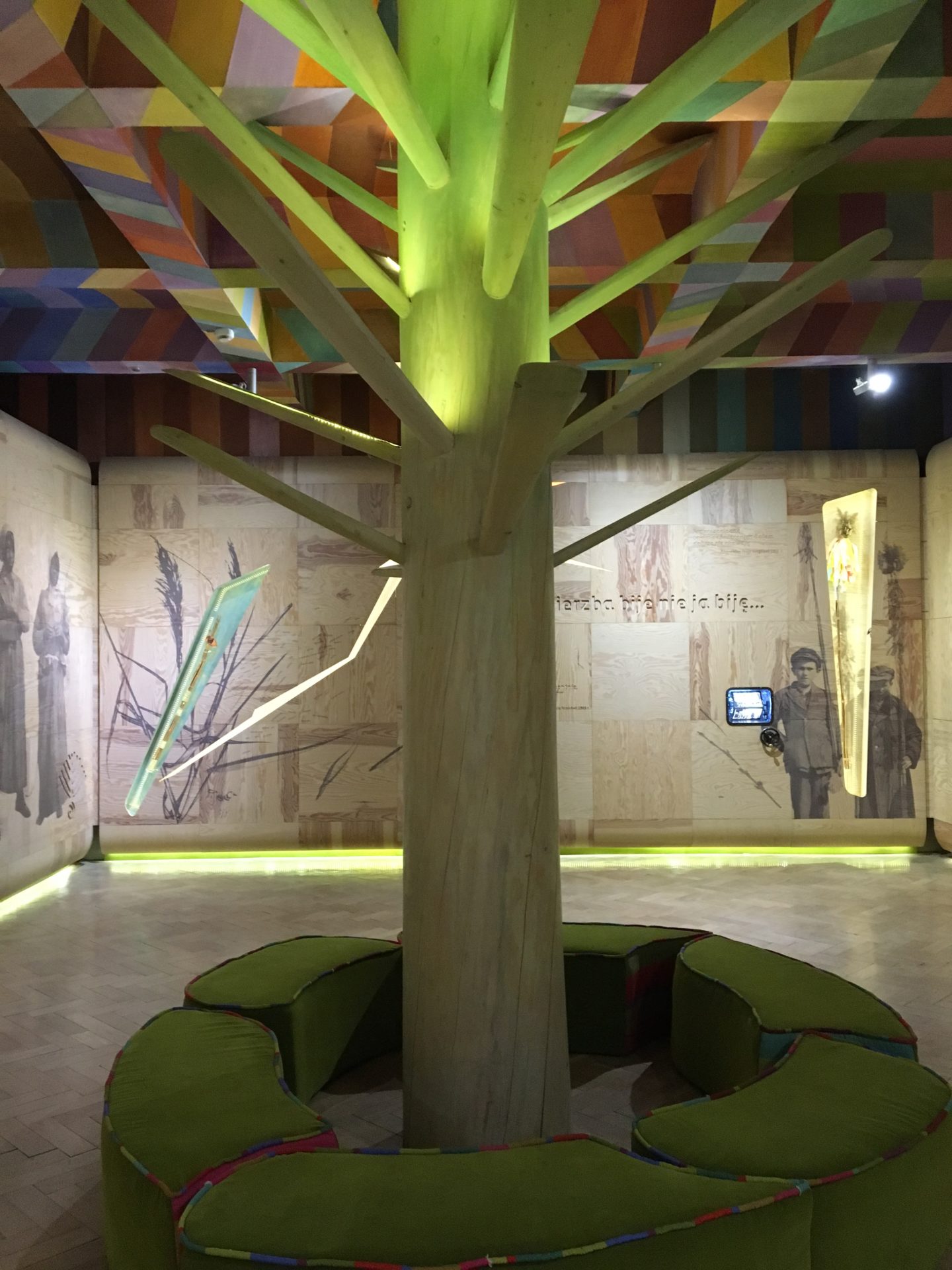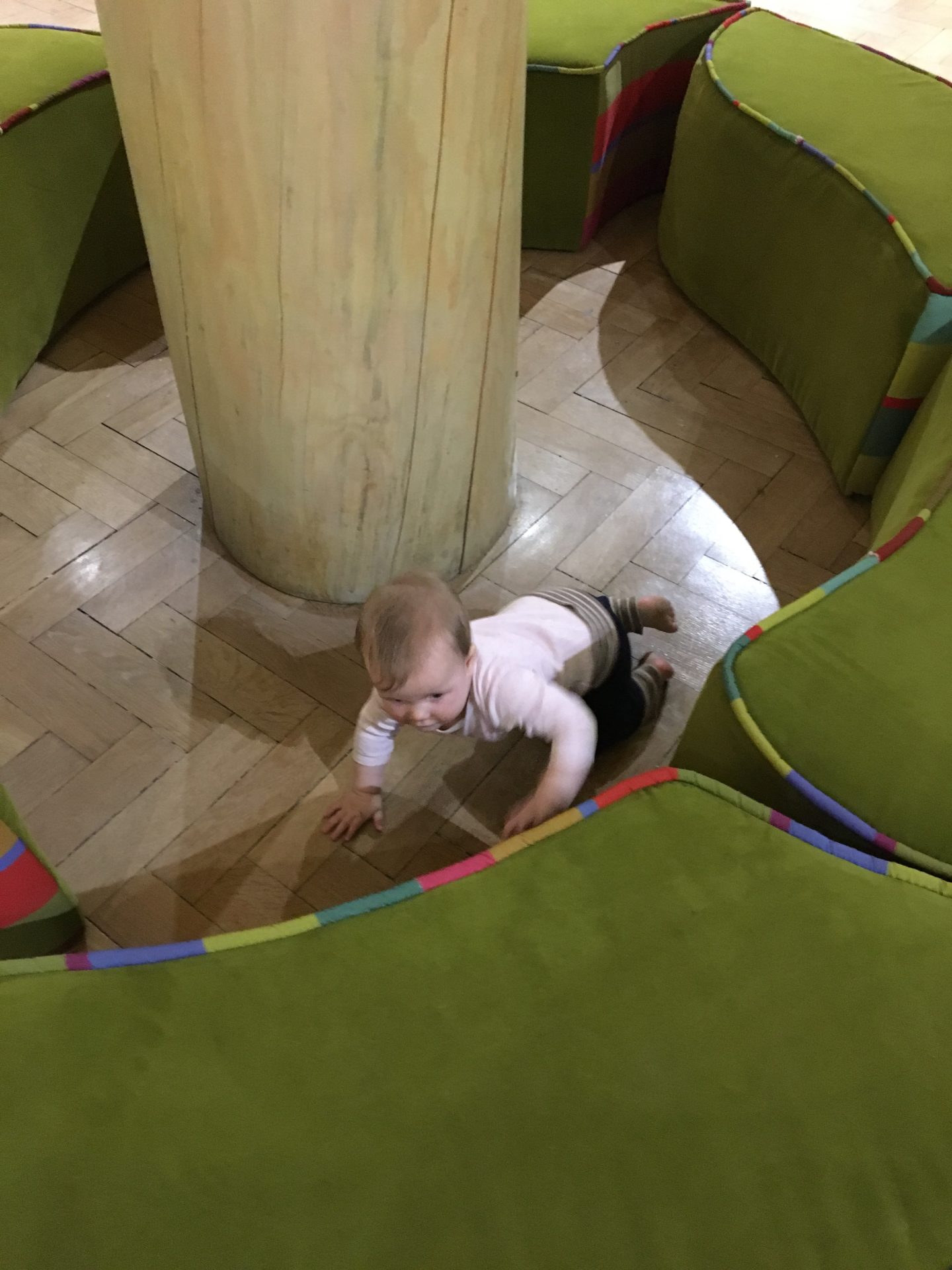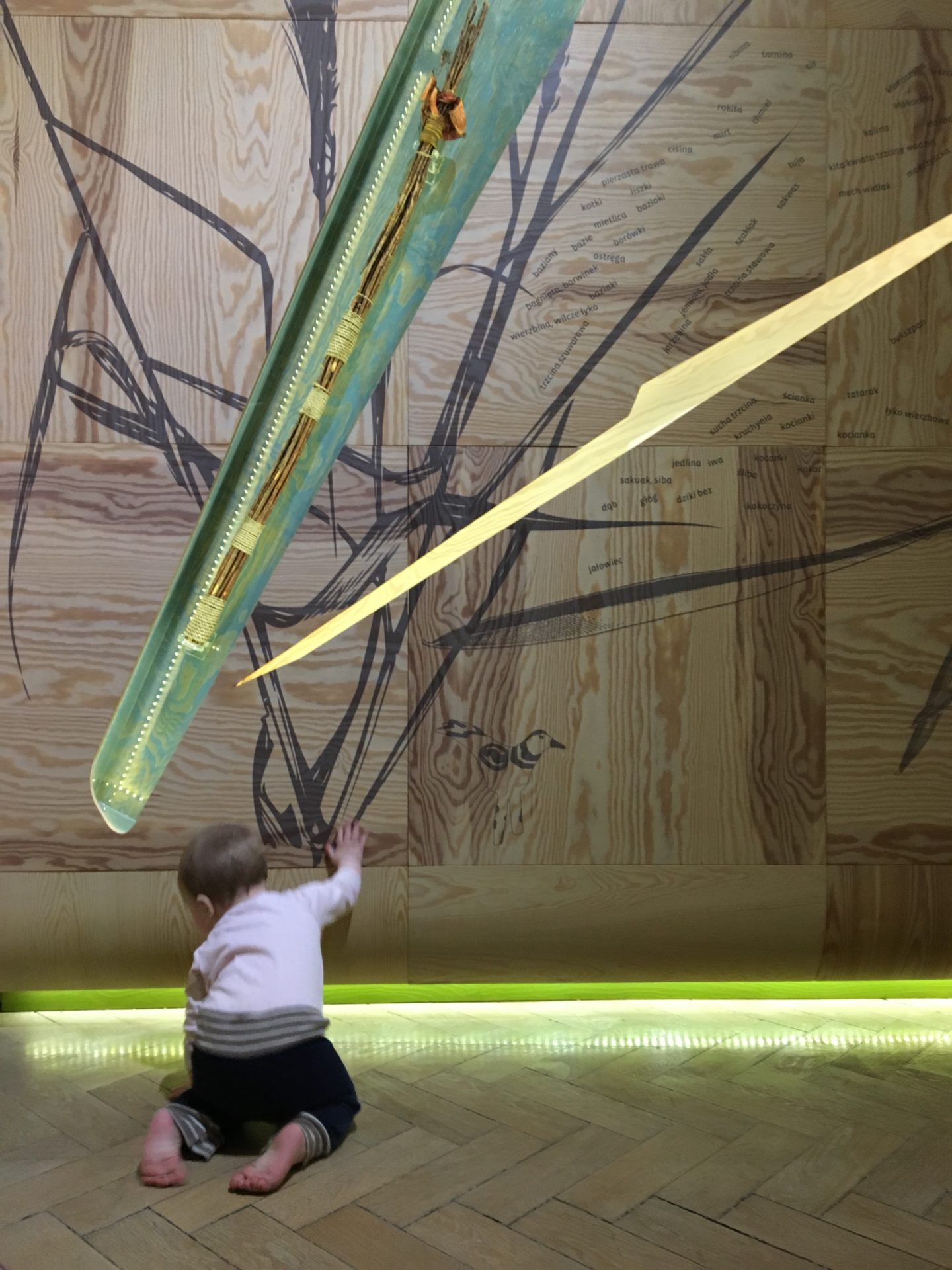 You should definitely go to the top floor and see an art exhibition combined with a narrative compiled from Czesław Miłosz's poetry. It's an incredibly beautiful and touching exhibition. The folk art in itself is touching and the works selected for the exhibition are really fascinating.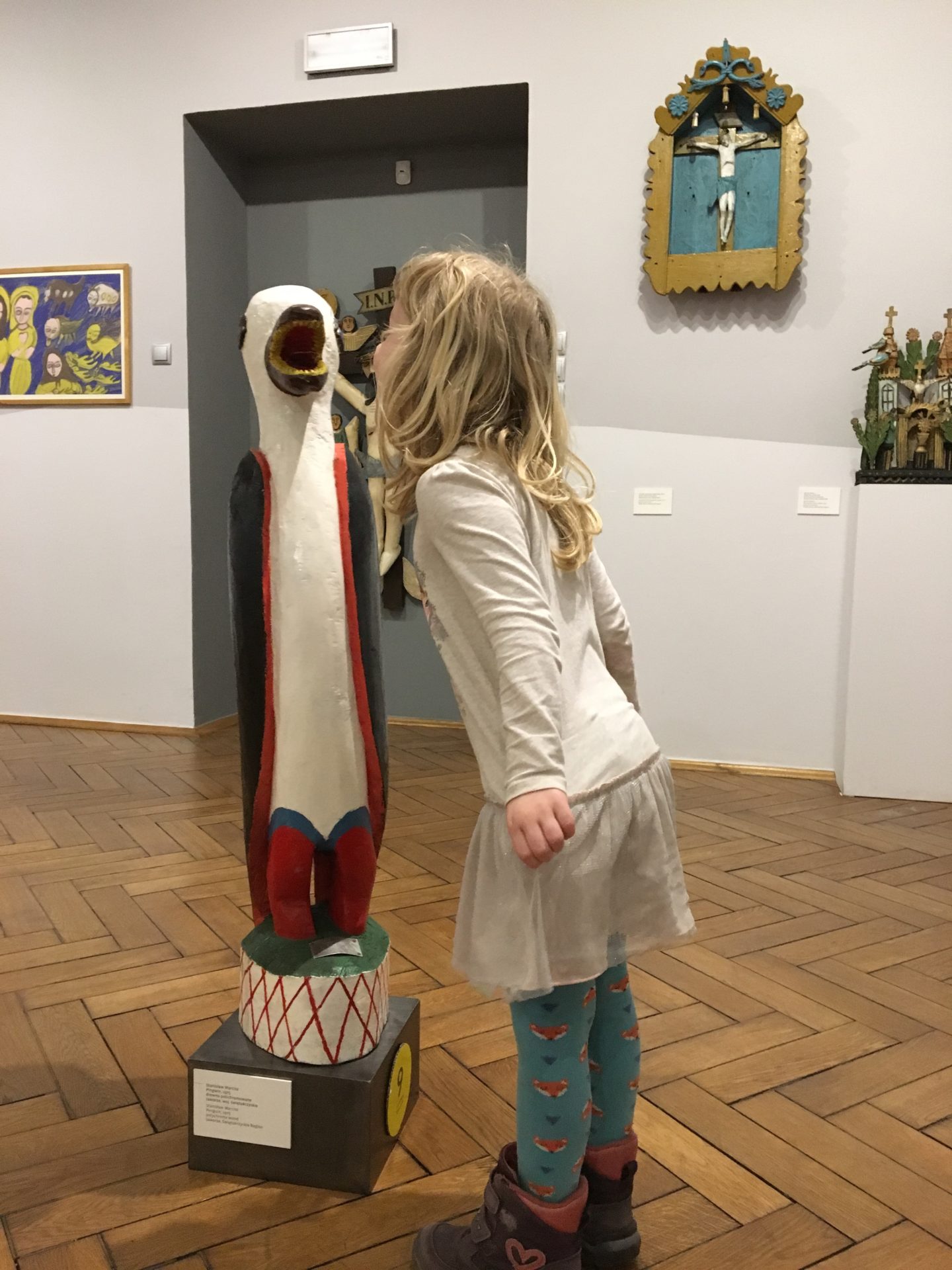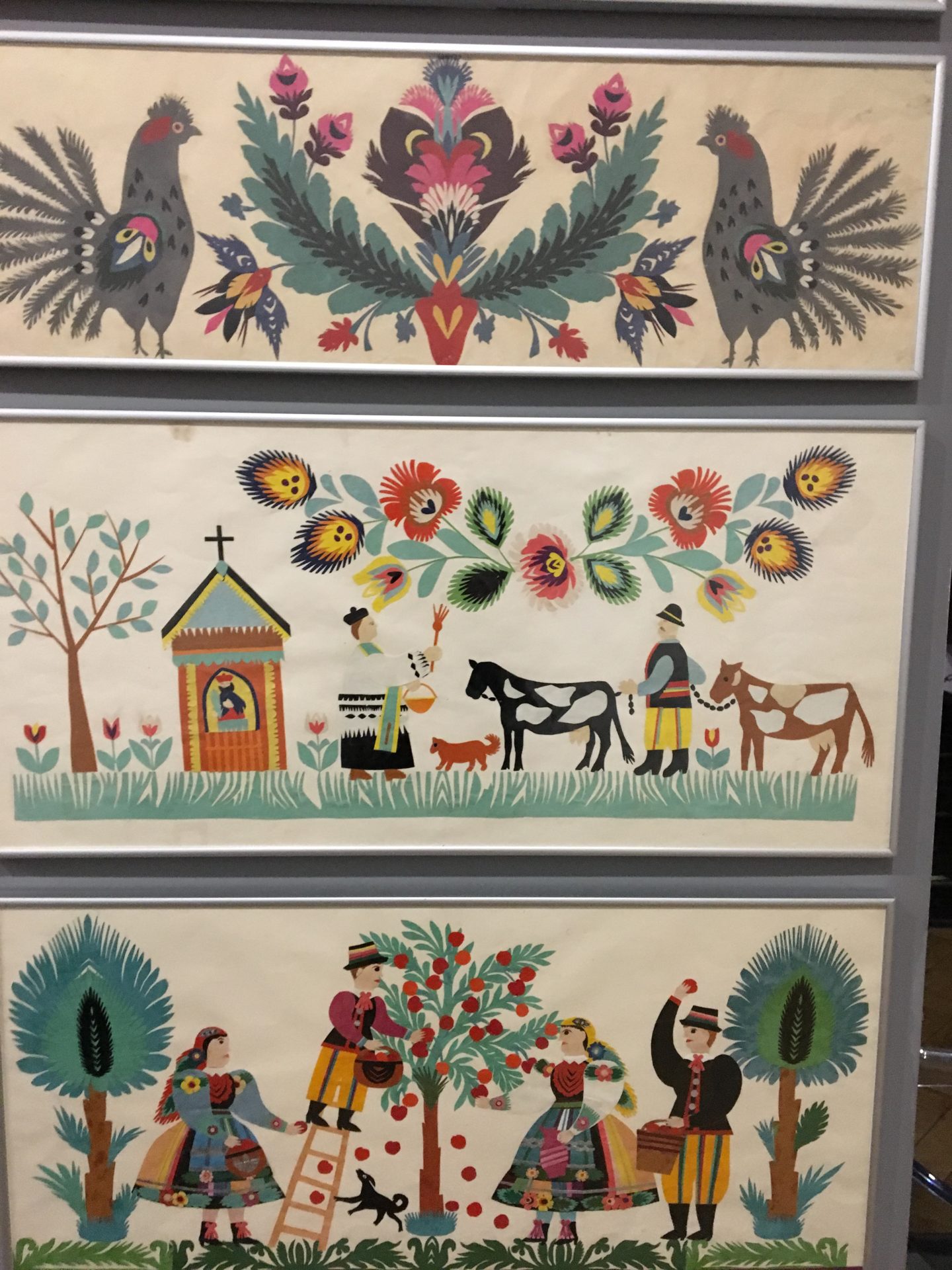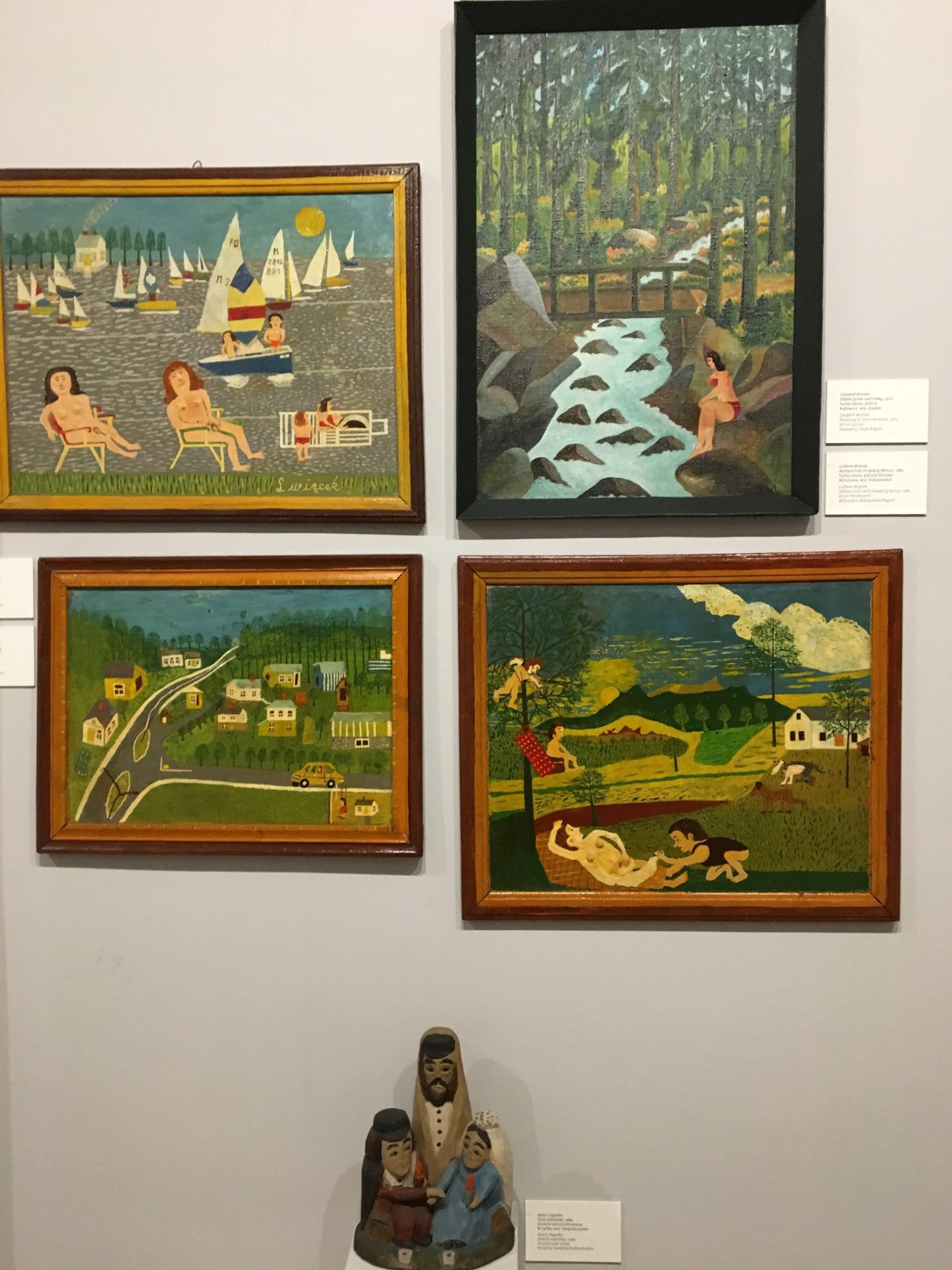 I really recommend visiting this museum.
Żywe Muzeum Obwarzanka (Museum of Obwarzanek) – Obwarzanek is a popular snack in Cracow. In this museum you can not only learn more about the history of this braided ring-shaped kind of bread but also bake it yourself! It's a really nice experience, although the lecture you have to listen to before you can start baking is definitely too long and not very children-friendly. Roma wanted all ready to go and bake but she had to wait until the lecture was over. But stull: it was still a nice visit and I wouldn't mind repeating it.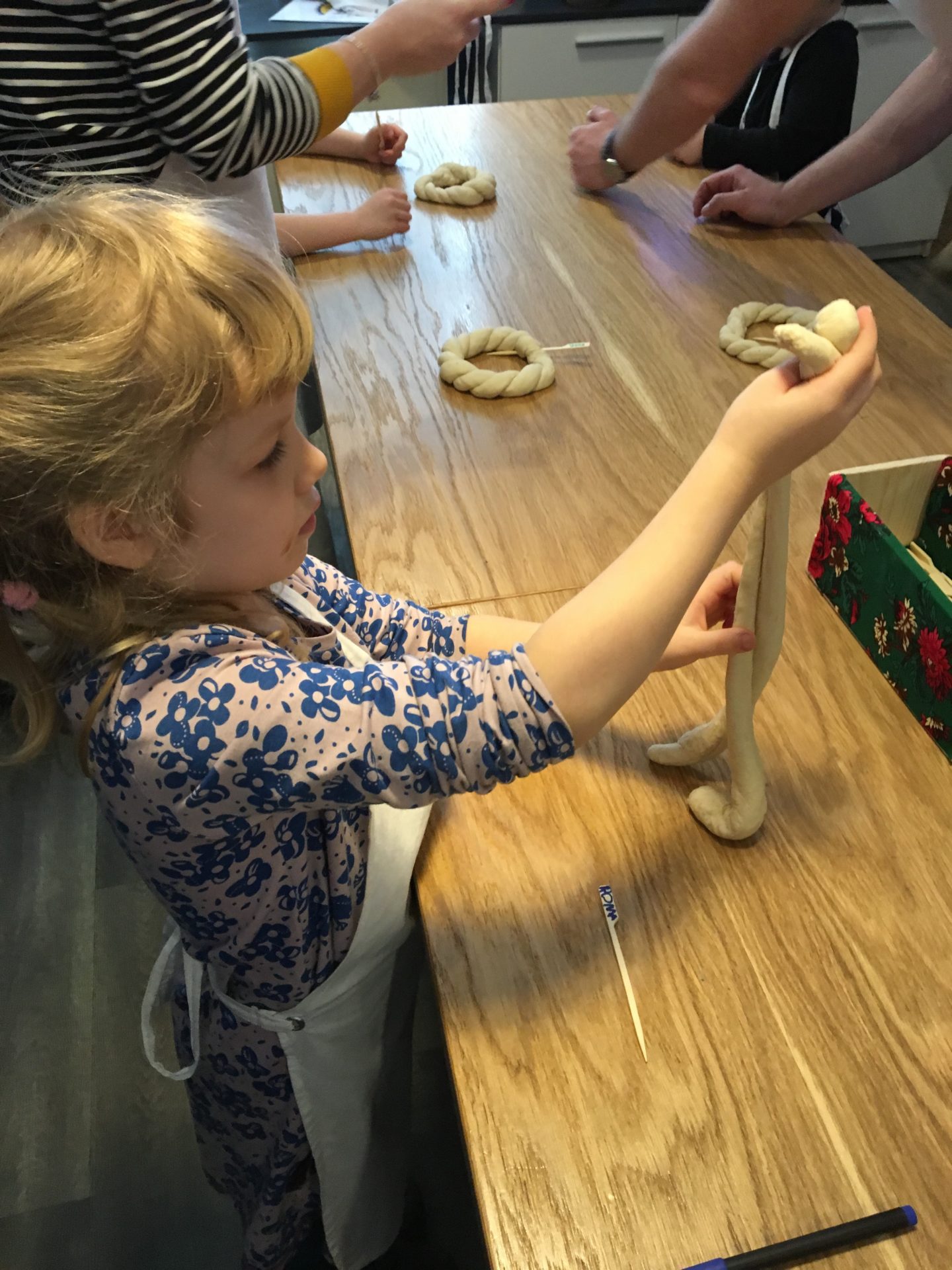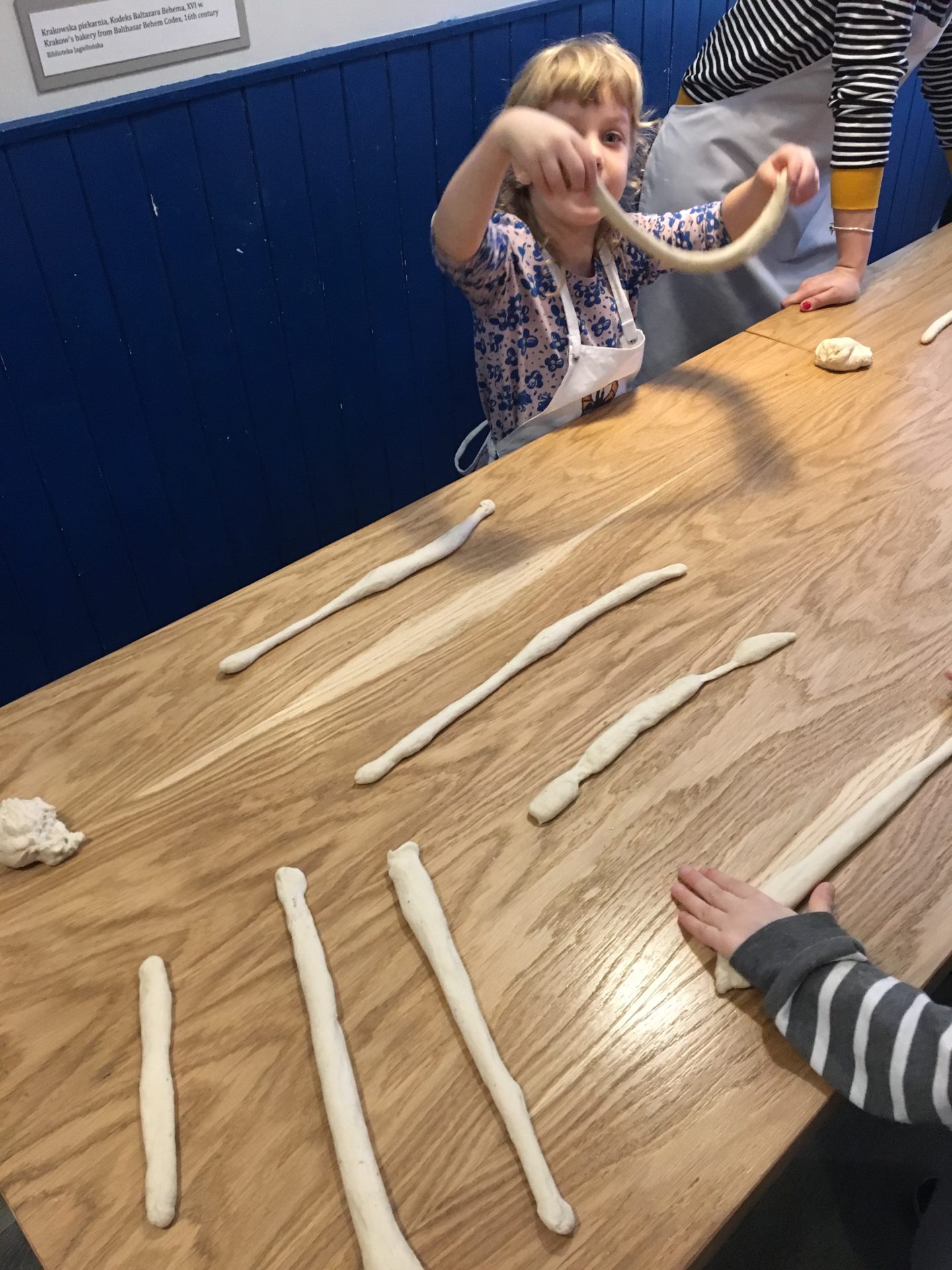 Wystawa Szuflada Szymborskiej (Szymborska's drawer exhibition) – this exhibition was opened on the first anniversary of the death of this great Polish poet and a Noble prize winner. It's located in the Szołayski House, which is part of the National Museum. The admission is free. Visitors can see here Szmborska's private belongings: postcard collages, trinkets and the famous chest of drawers with all sorts of objects inside. Coming here gives you a chance to learn about Szymborska's little oddities, like her inclination to pose to photos under town signs with weird names. The memory of what I saw there makes me smile. Szymborska was not only a wonderful poet but also an original and interesting personality whom I'd love to have known. The children also appreciated this visit: the collection of Szymborska's private possessions proved surprisingly interesting also for them.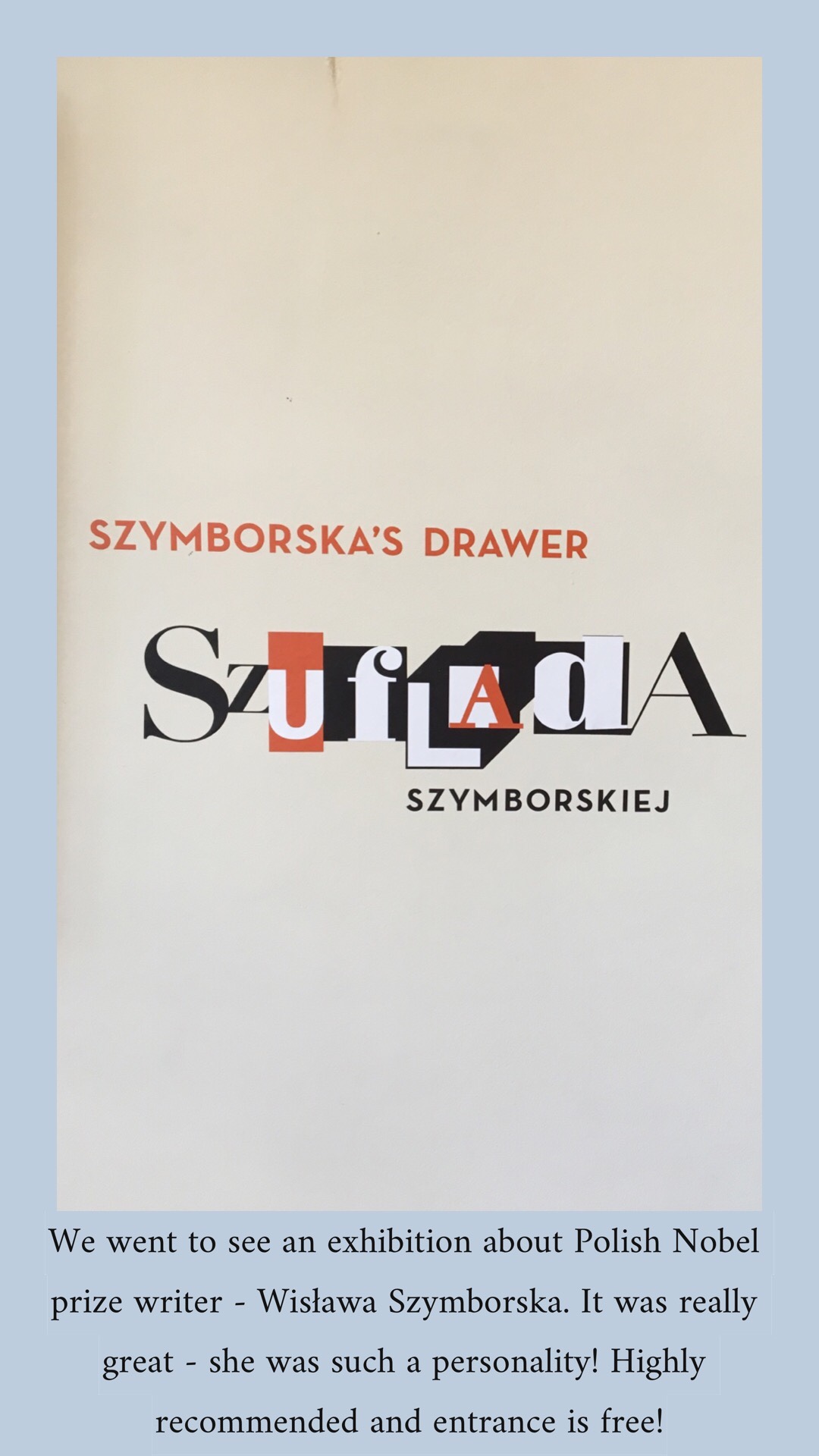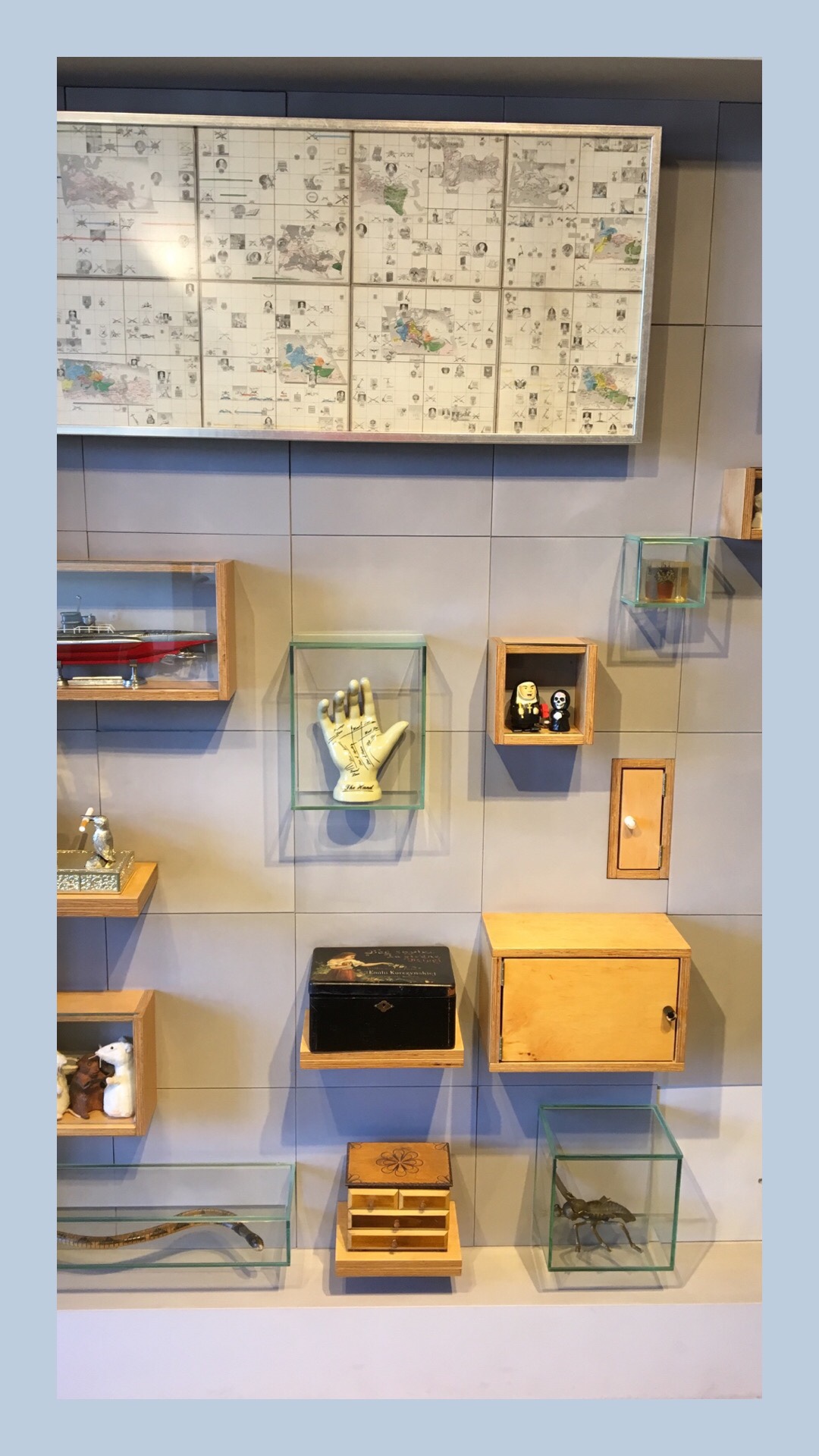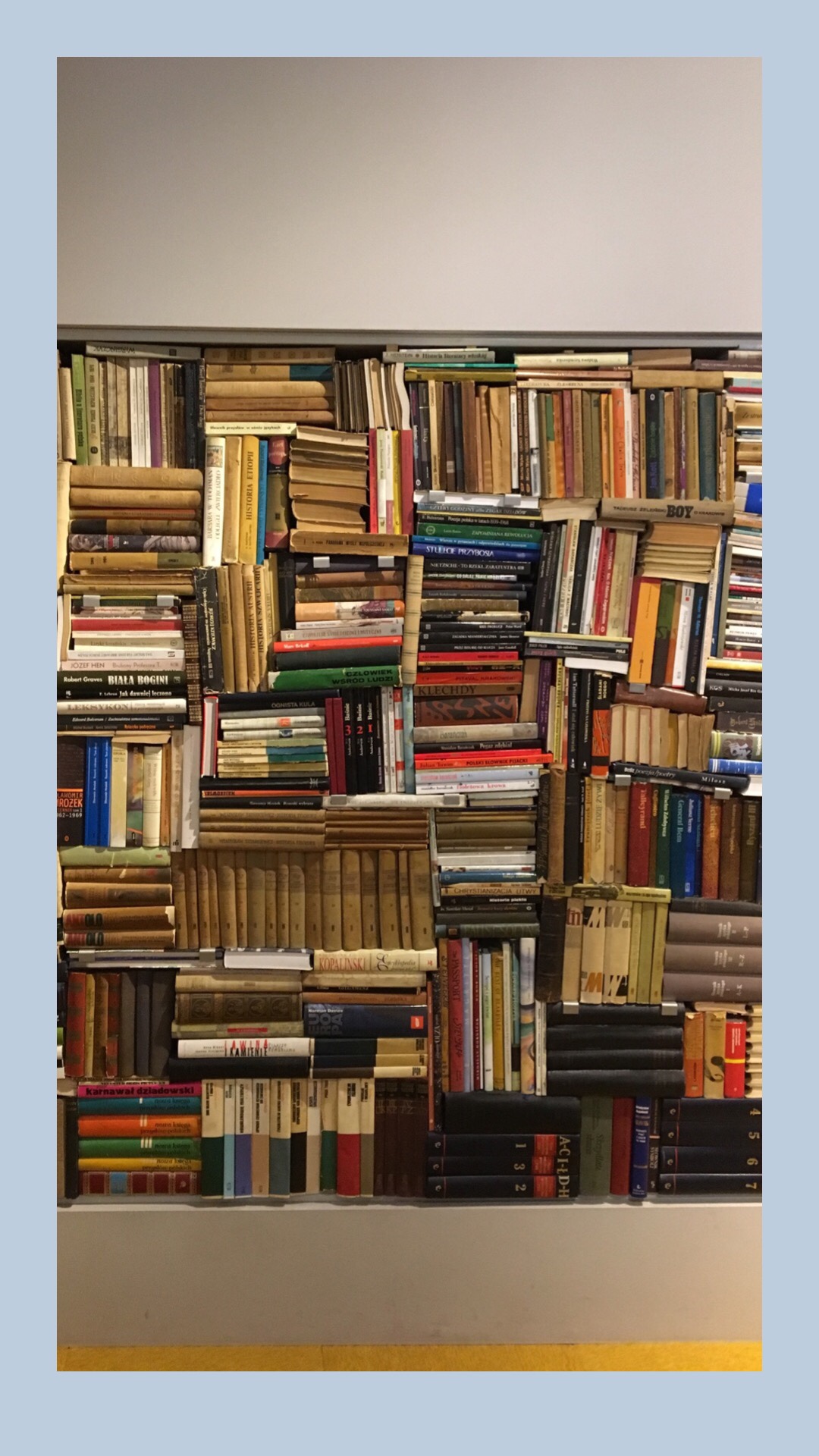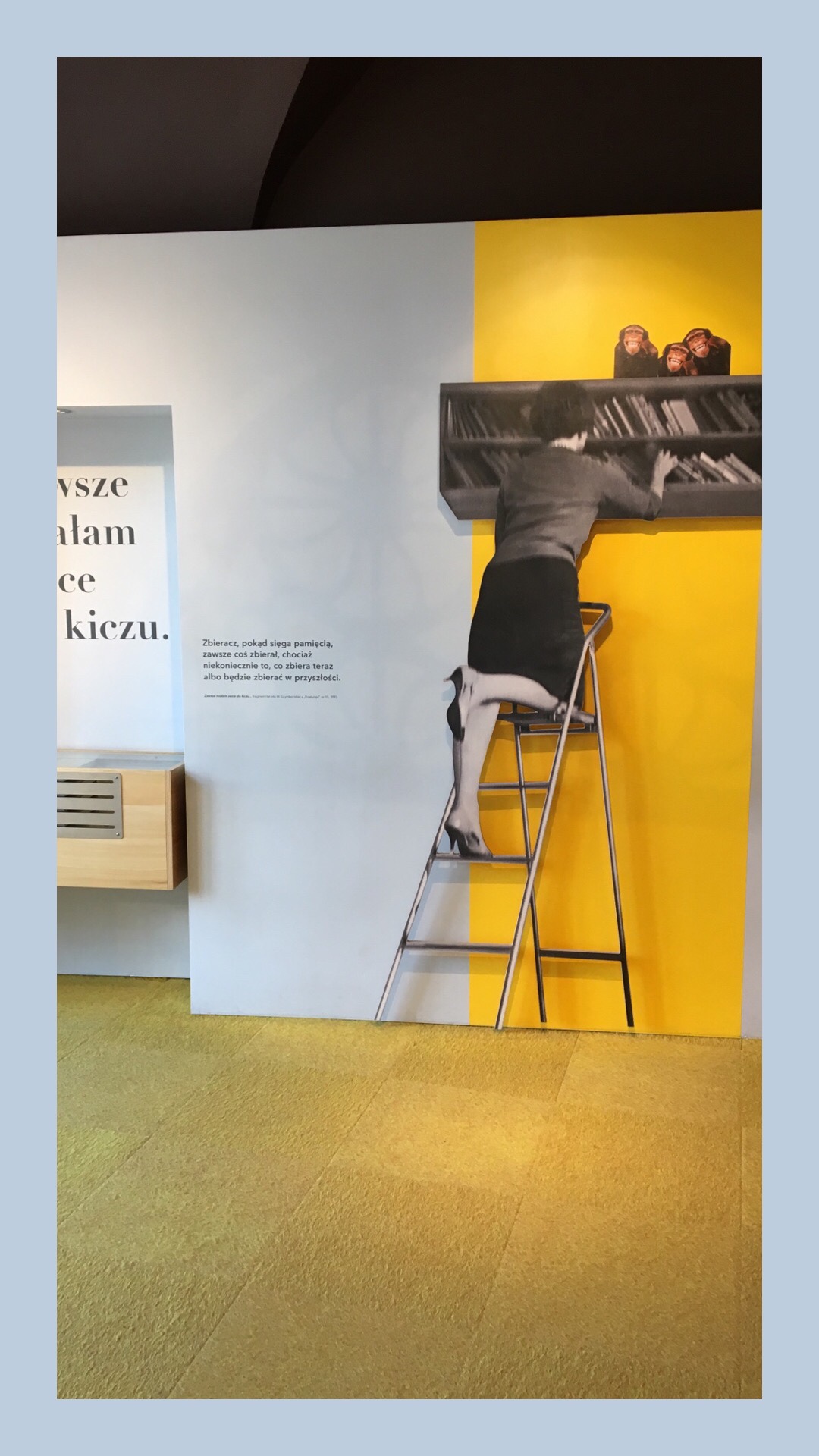 Having seen all that, don't forget to simply have a walk in Cracow. You don't need to have any particular goal. Just stroll around and admire the wonderful old tenement houses. I have never been to Cracow in summer but having seen it in spring, I know it'll definitely be one of my next goals.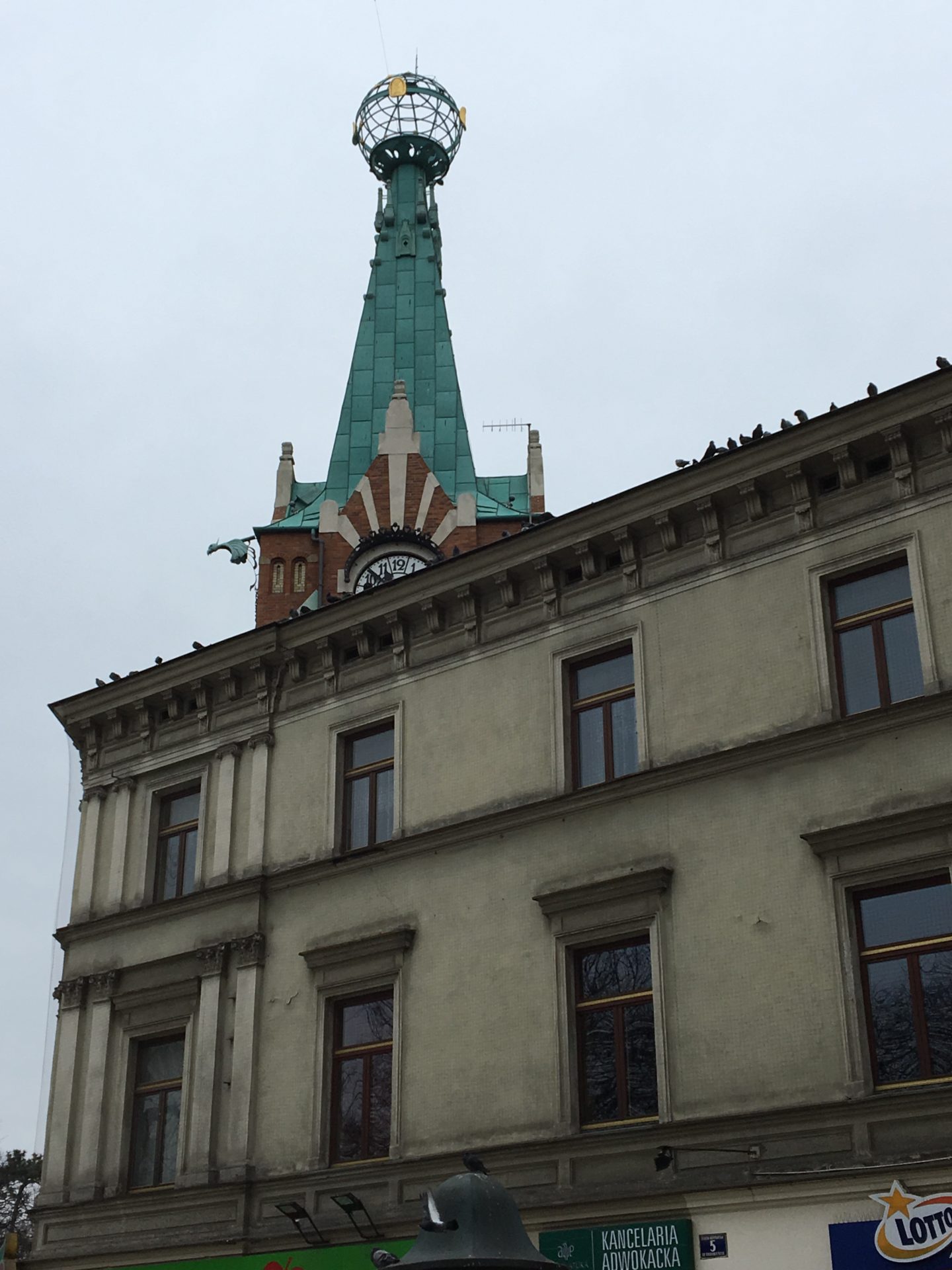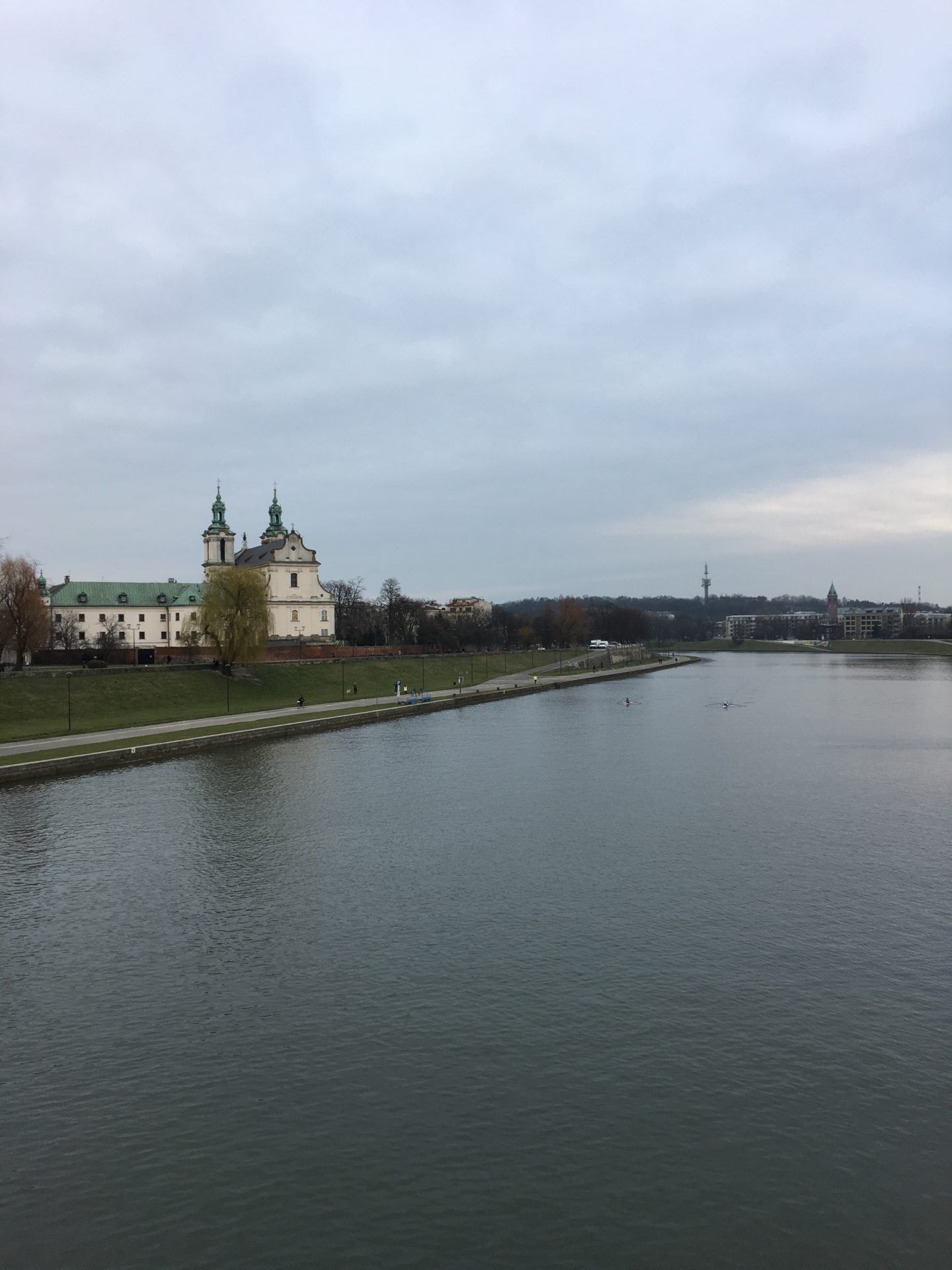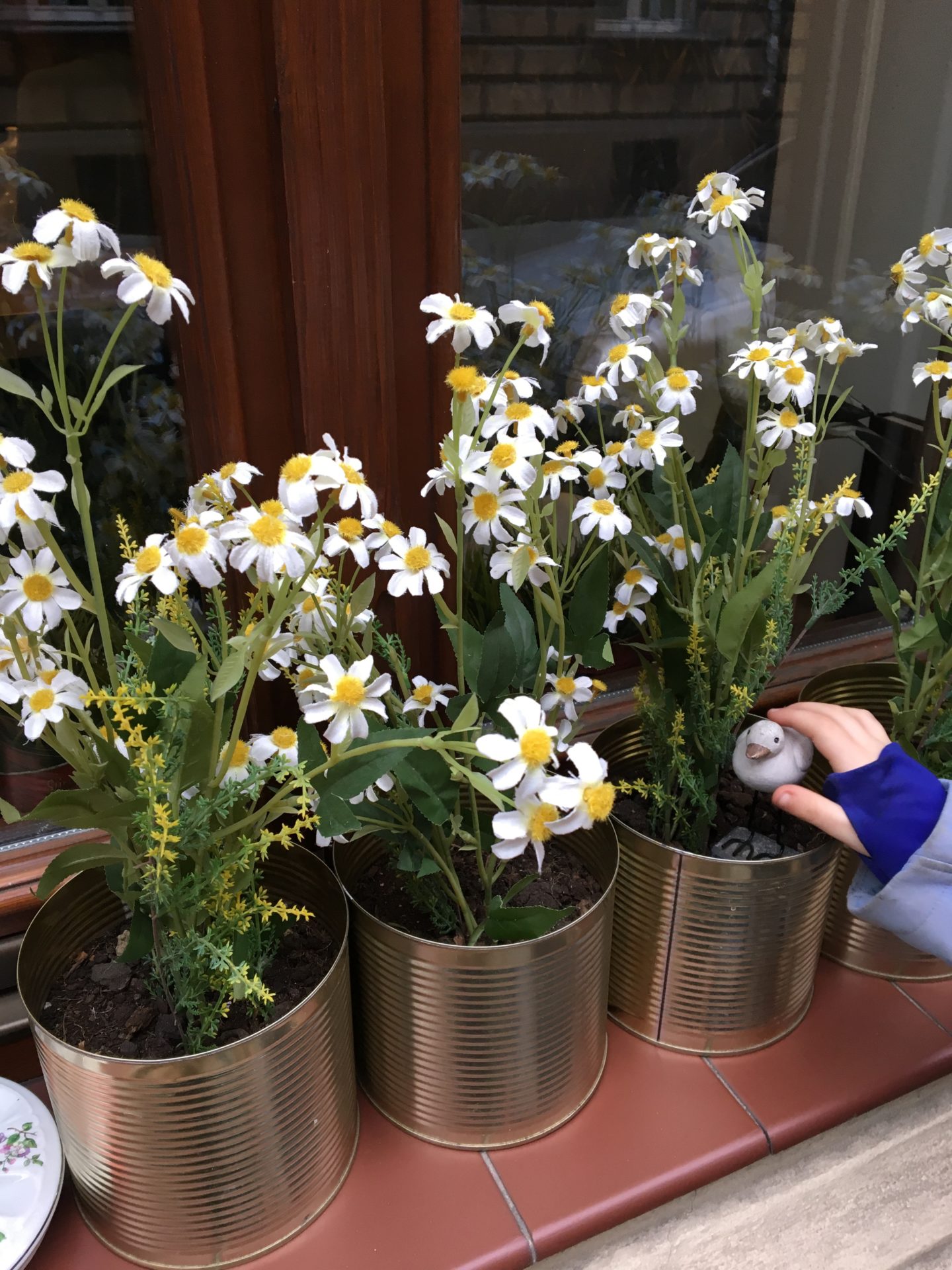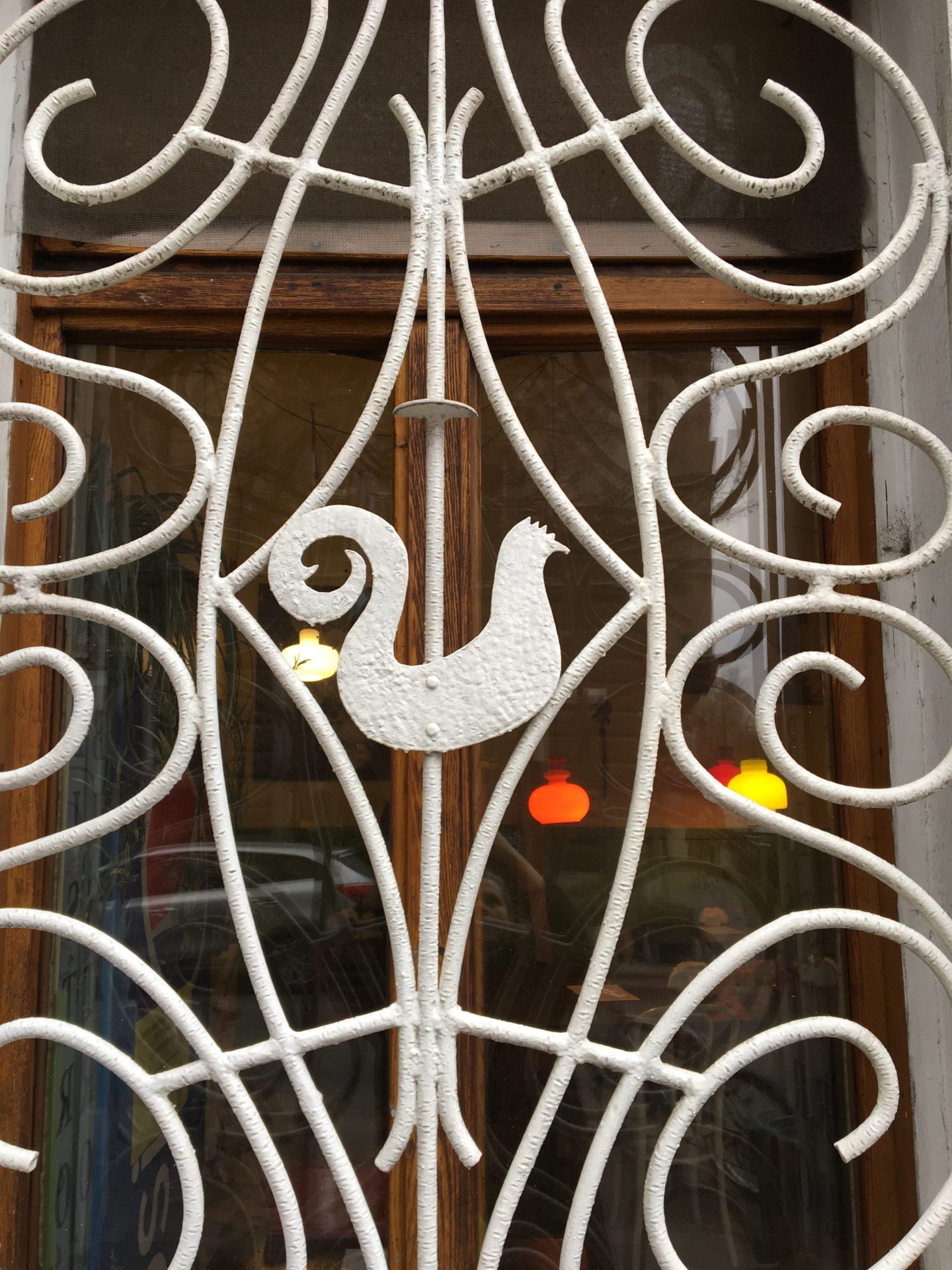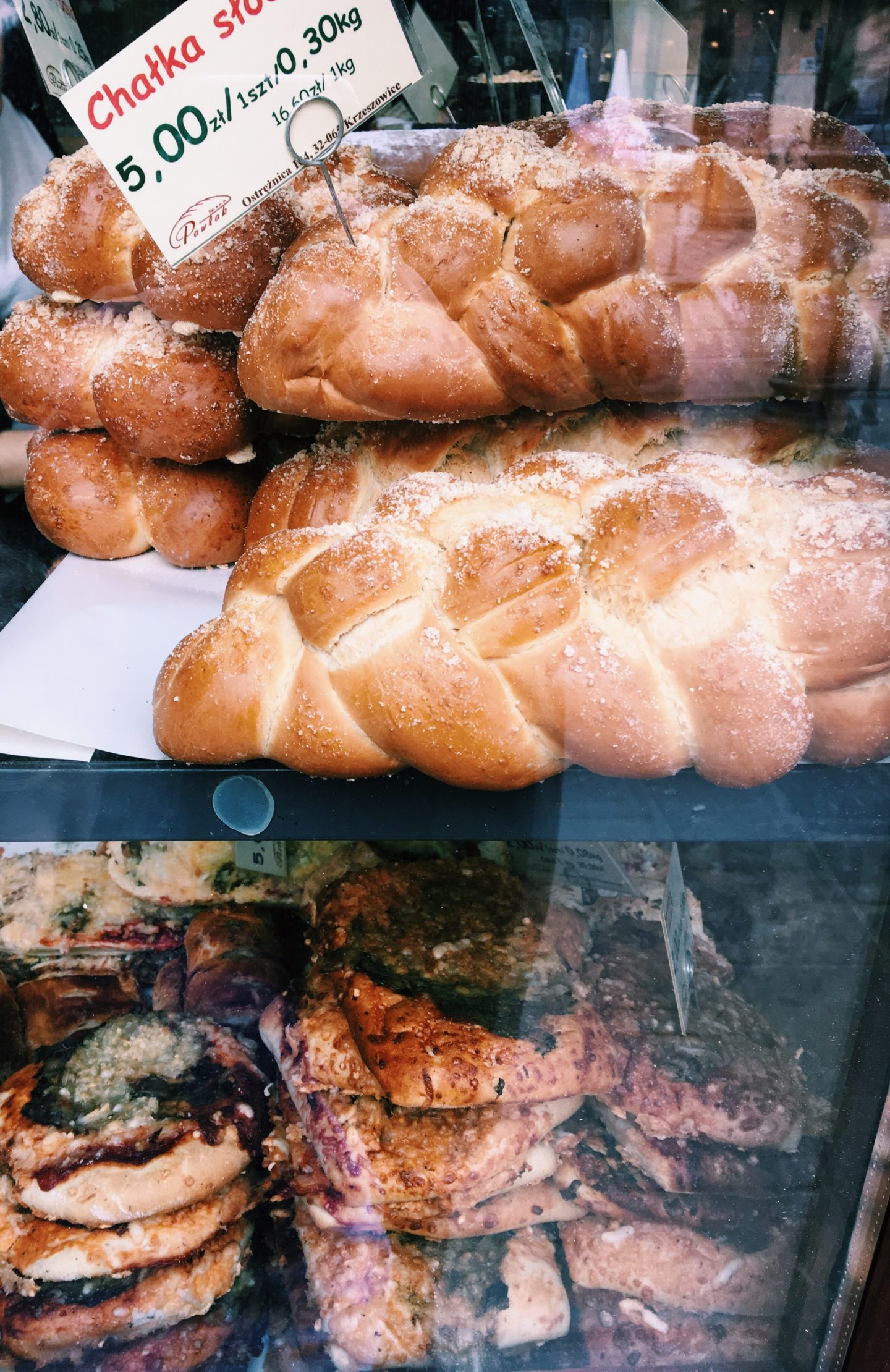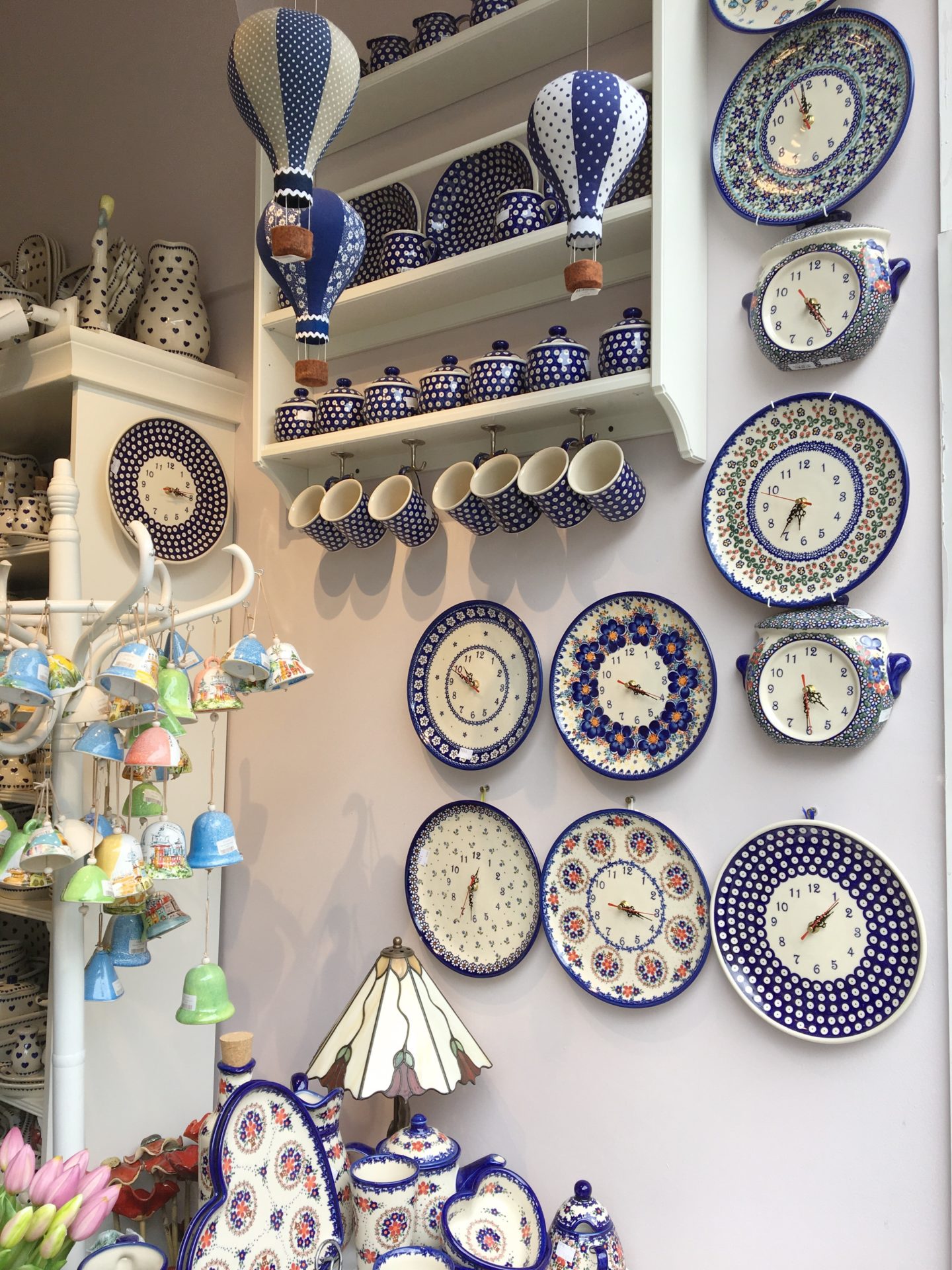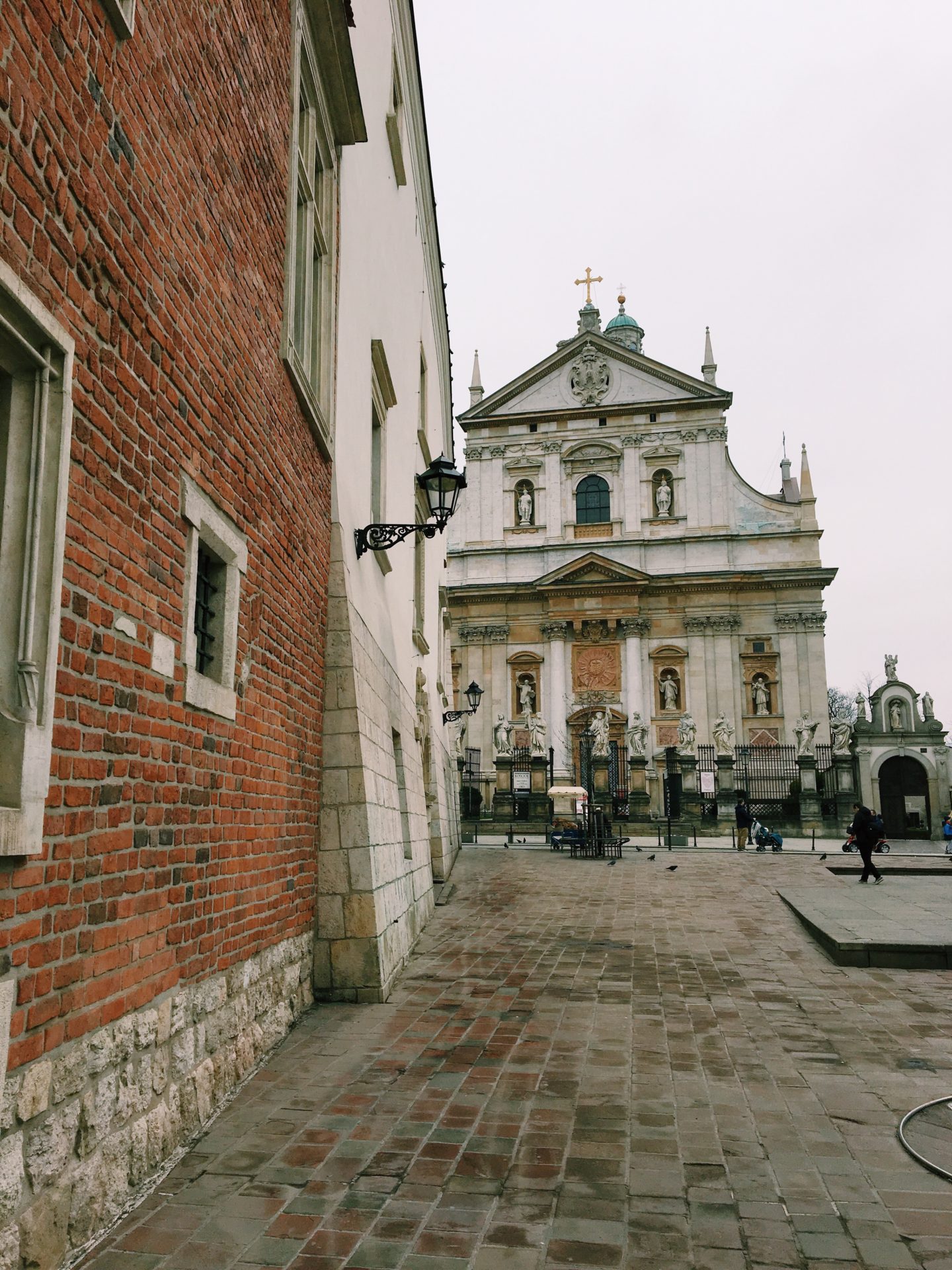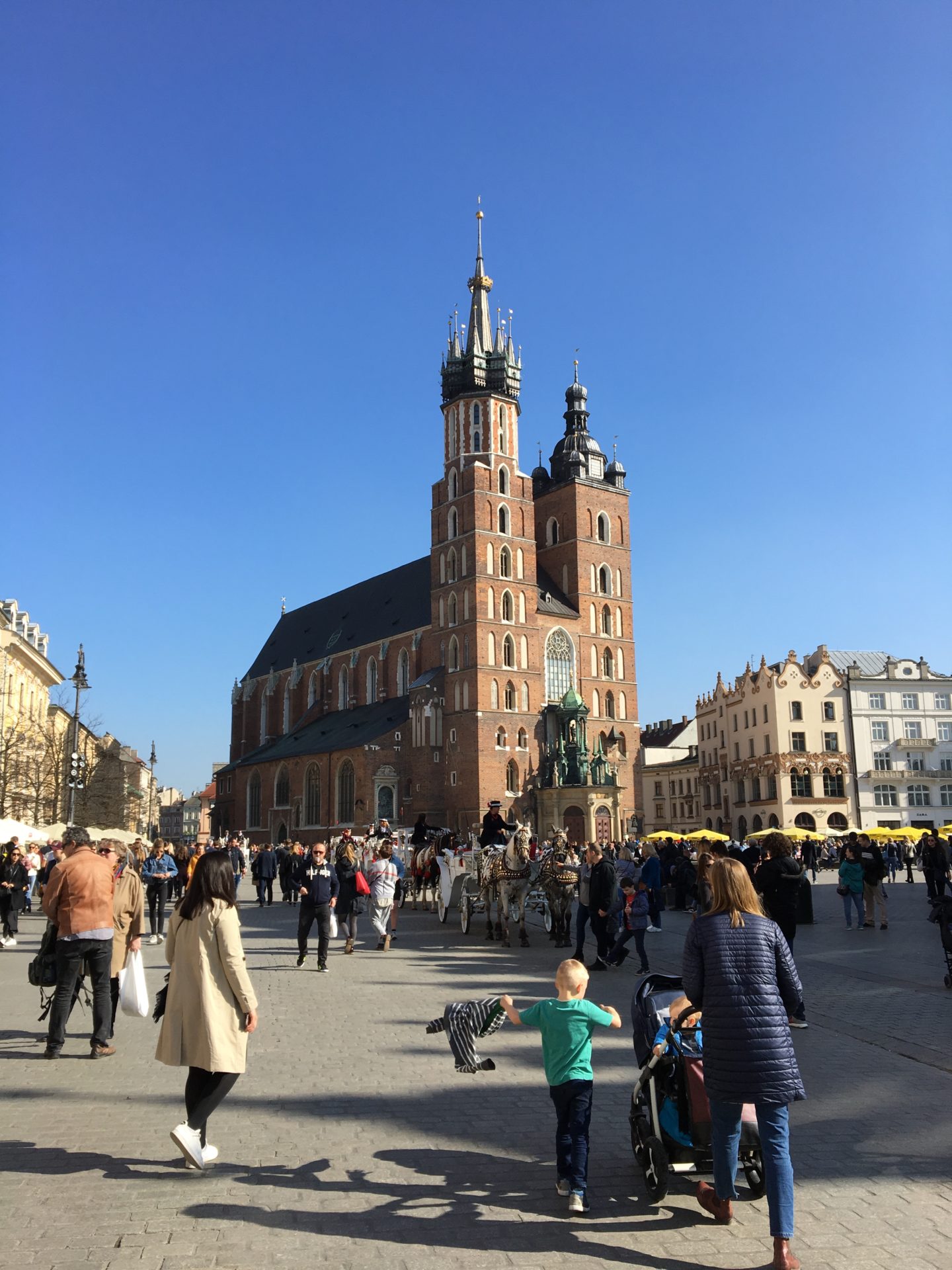 Where to eat in Cracow (with kids)?
Well, you won't leave this city hungry, that's for sure. You can find here all sorts of cuisines but if you are with kids, it might be surprisingly difficult to find a restaurant prepared for your visit.
We went to:
Zielonym do góry – unfortunately this choice proved to be a great disappointment, although it is a beautiful restaurant with a wonderful plant decor. There is a corner where children can play but it's at the back of the restaurant and not especially inviting. The service is good and very children-friendly (they were happy to bring my kids crayons to the table) and there is a menu for kids, high chairs and a changing table in the toilet. But the food…it was mediocre at best, not to say untasty. Fortunately, there was some kind of a special offer and we didn't pay too much for what we had. I appreciated this financial advantage, as I wouldn't have been happy if I'd had to pay more for such unimpressive food.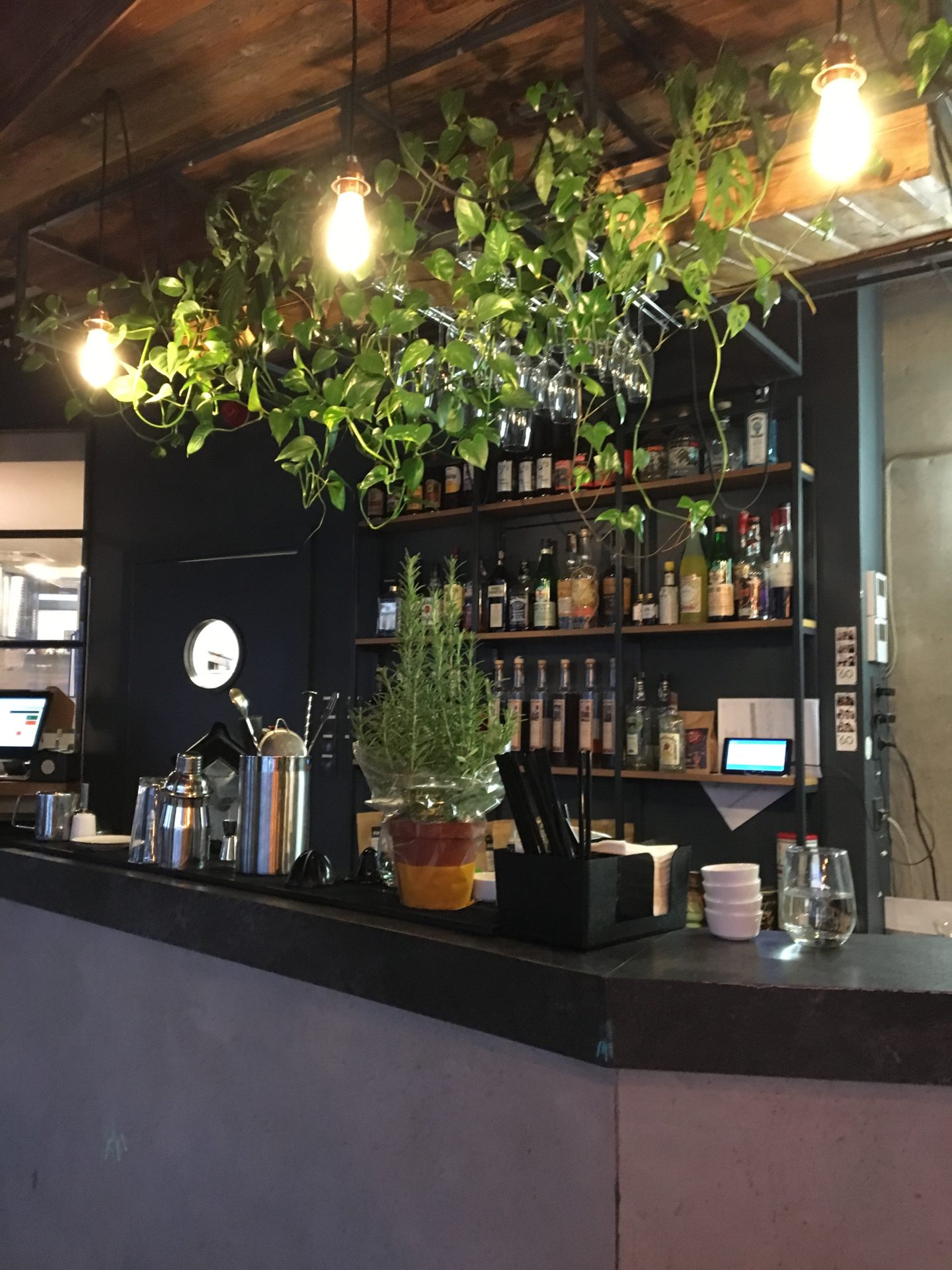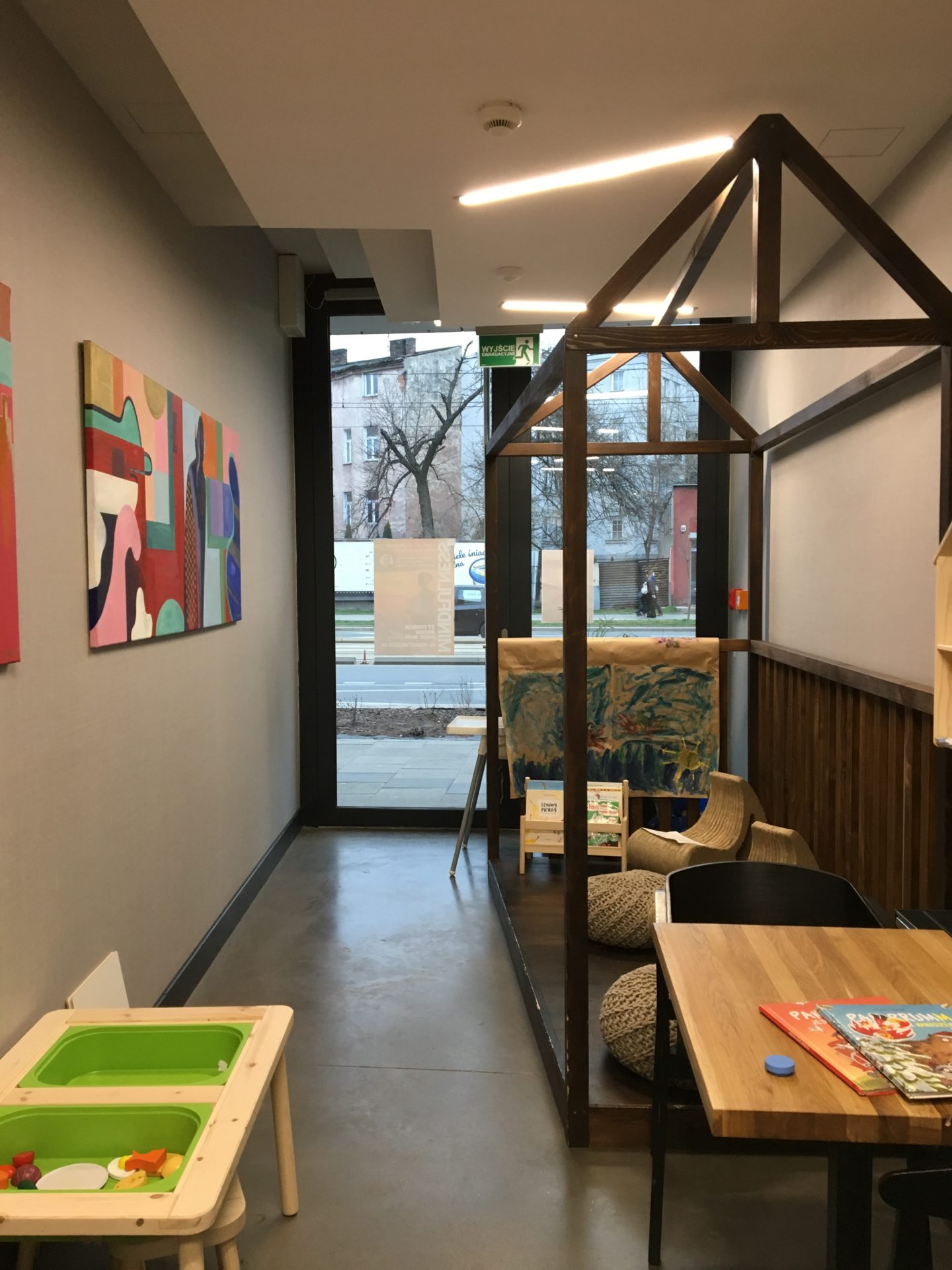 Kawiarnia dziecięca likeKonik – this place is located in the very centre of the old town, so it's perfect if you need to take a break in all the sightseeing (there is a lift; go and look for it – I had some problems locating it :). This cafe is ok but it's advisable to check their FB page before you decide to go there: when we came in, it turned out that there were some classes for kindergarten children and it was a bit chaotic; my kids couldn't use the playroom inside, so they joined the classes (but it was only possible because this time there weren't many participants). The service is very nice, the toys clean, you can drink coffee and eat cake.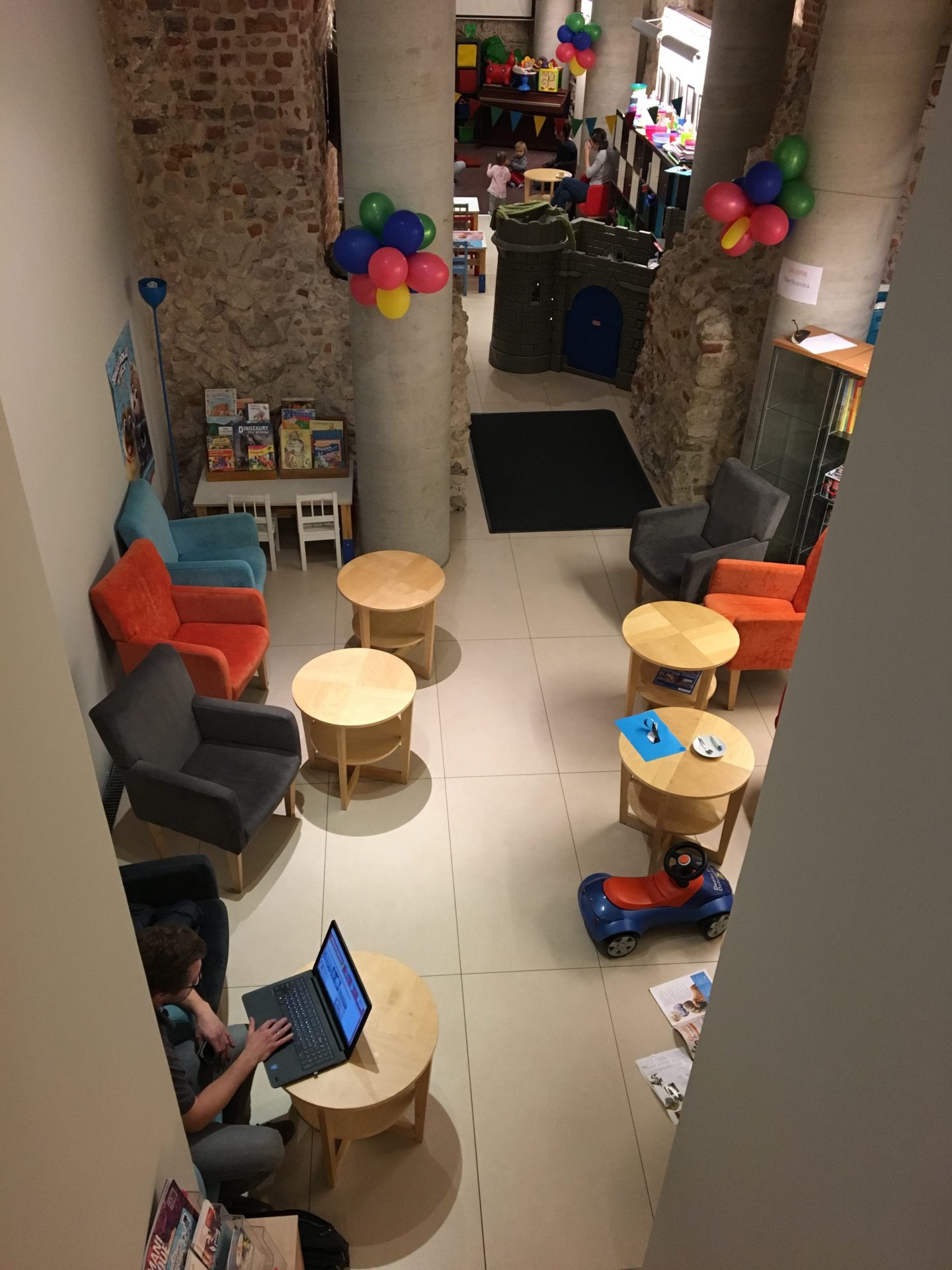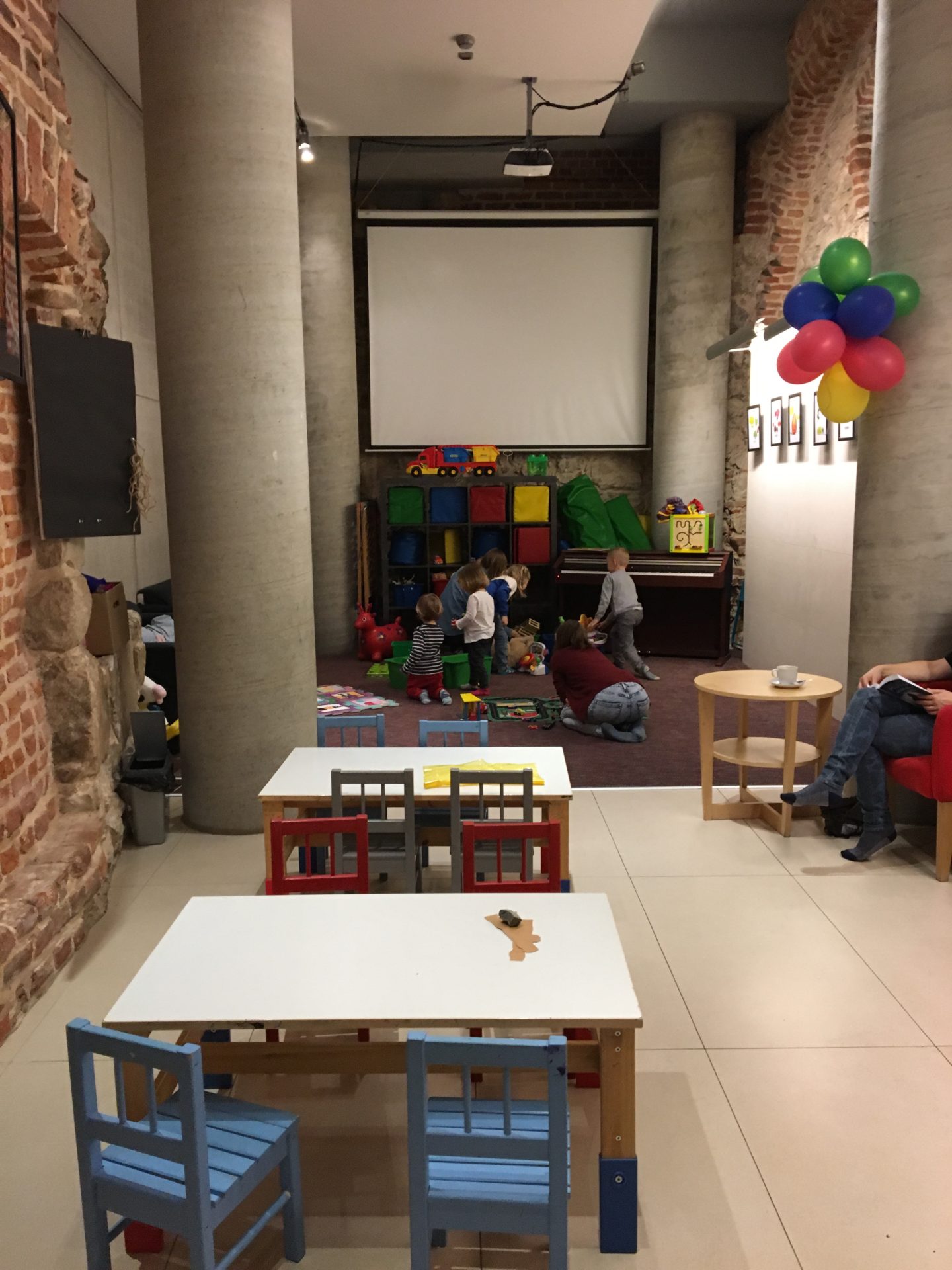 Restauracja Pino Garden – this was the food highlight of this trip! We had to wait 30 minutes for a table but it was totally worth it. The restaurant is beautiful, with a large playroom and most importantly – great food. It was so delicious that I kept ordering new dishes just to taste them and in the end, instead of walking out, I almost rolled out of the restaurant :))).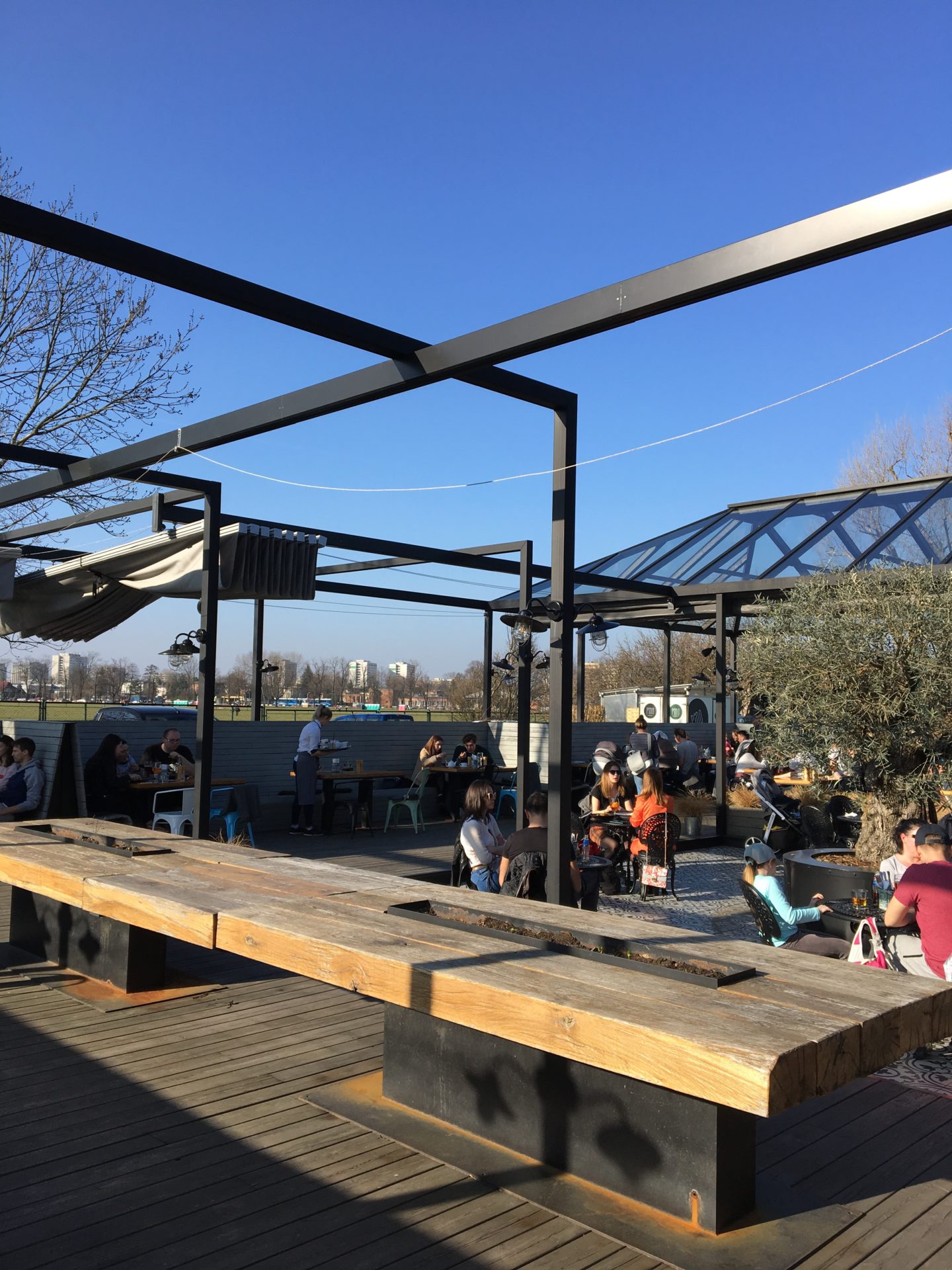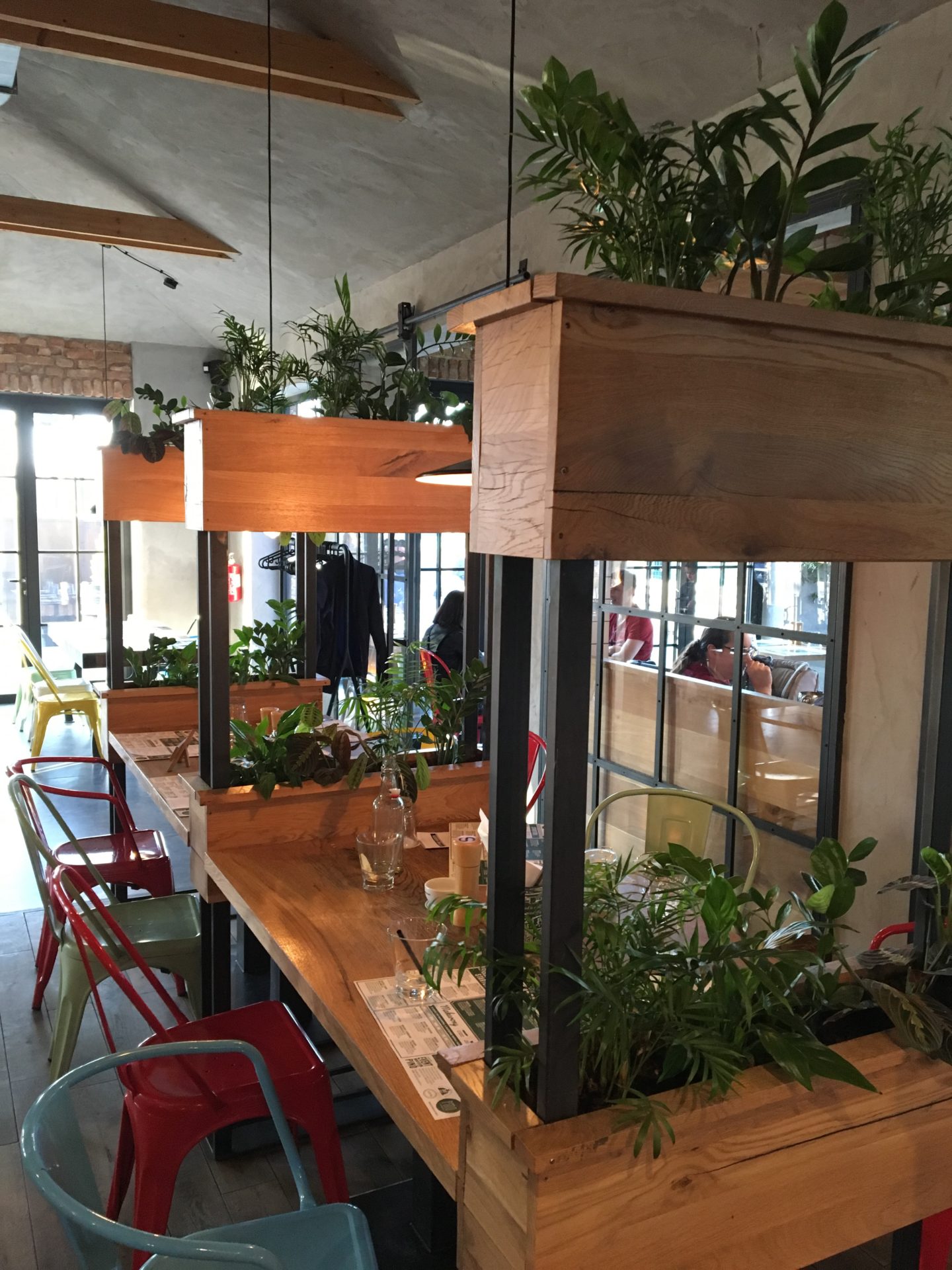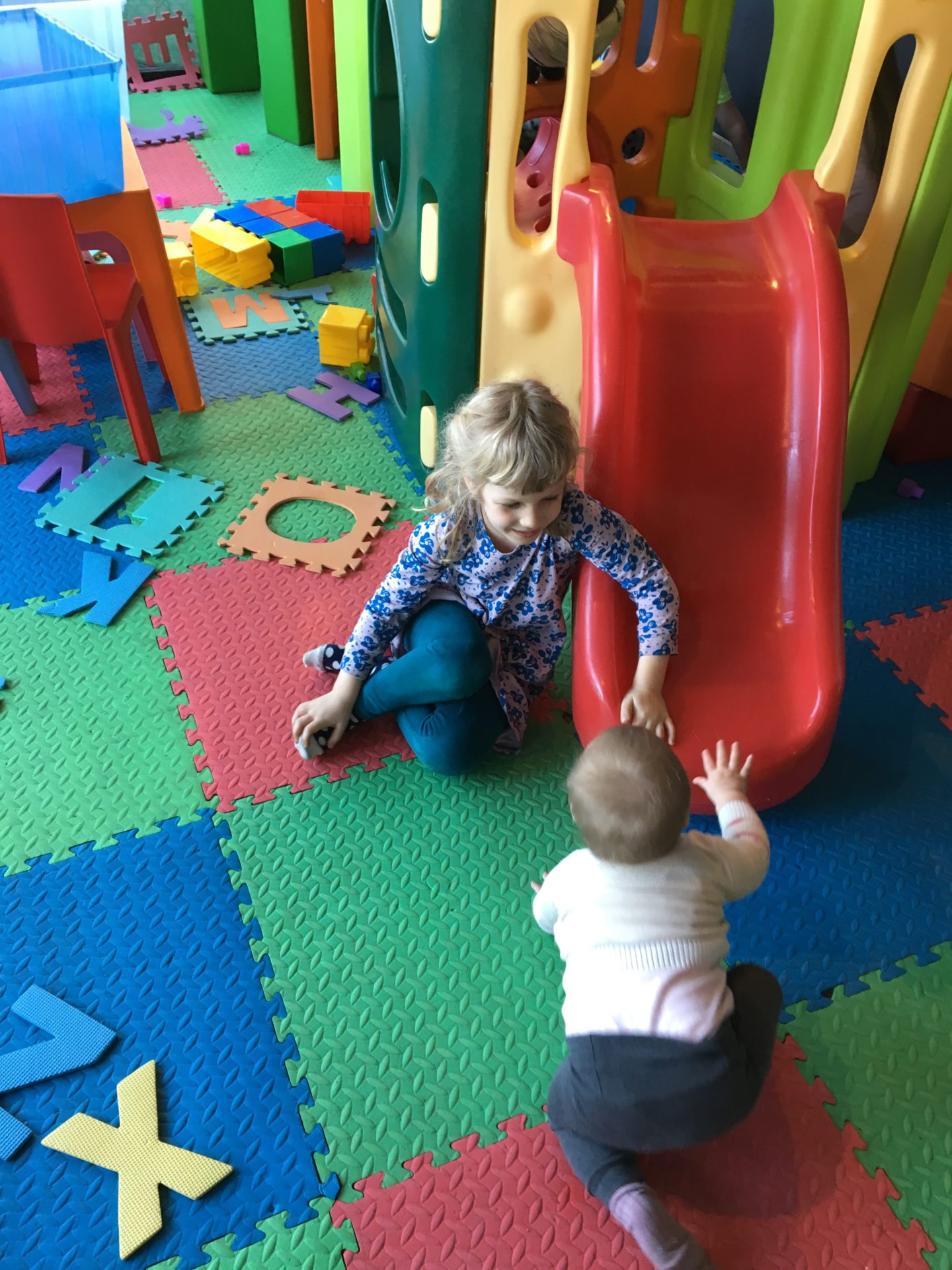 Here a couple of other places we visited that I can recommend (but only because of the food – they aren't the best places for families with kids):
Bistro Charlotte – a famous Cracow breakfast cafe with delicious homemade bread. Not for parents with kids (and the place doesn't advertise itself as such) but I'd read so many positive opinions about it that I just had to eat breakfast there :). And it was perfect. I really recommend it – preferably without little kids, as is rather small and crowded, but even with the kids it was possible, especially that the service is super nice and helpful.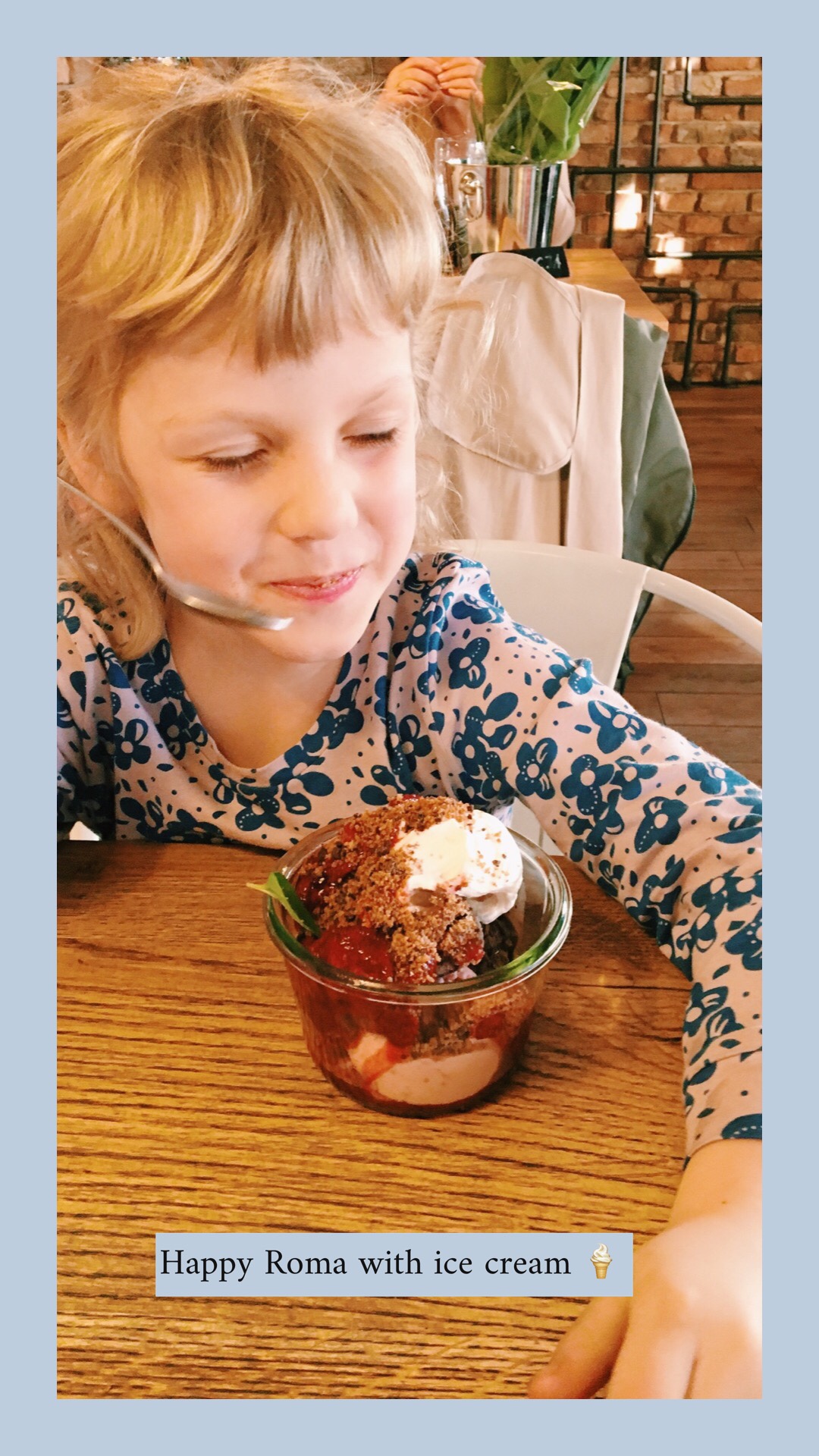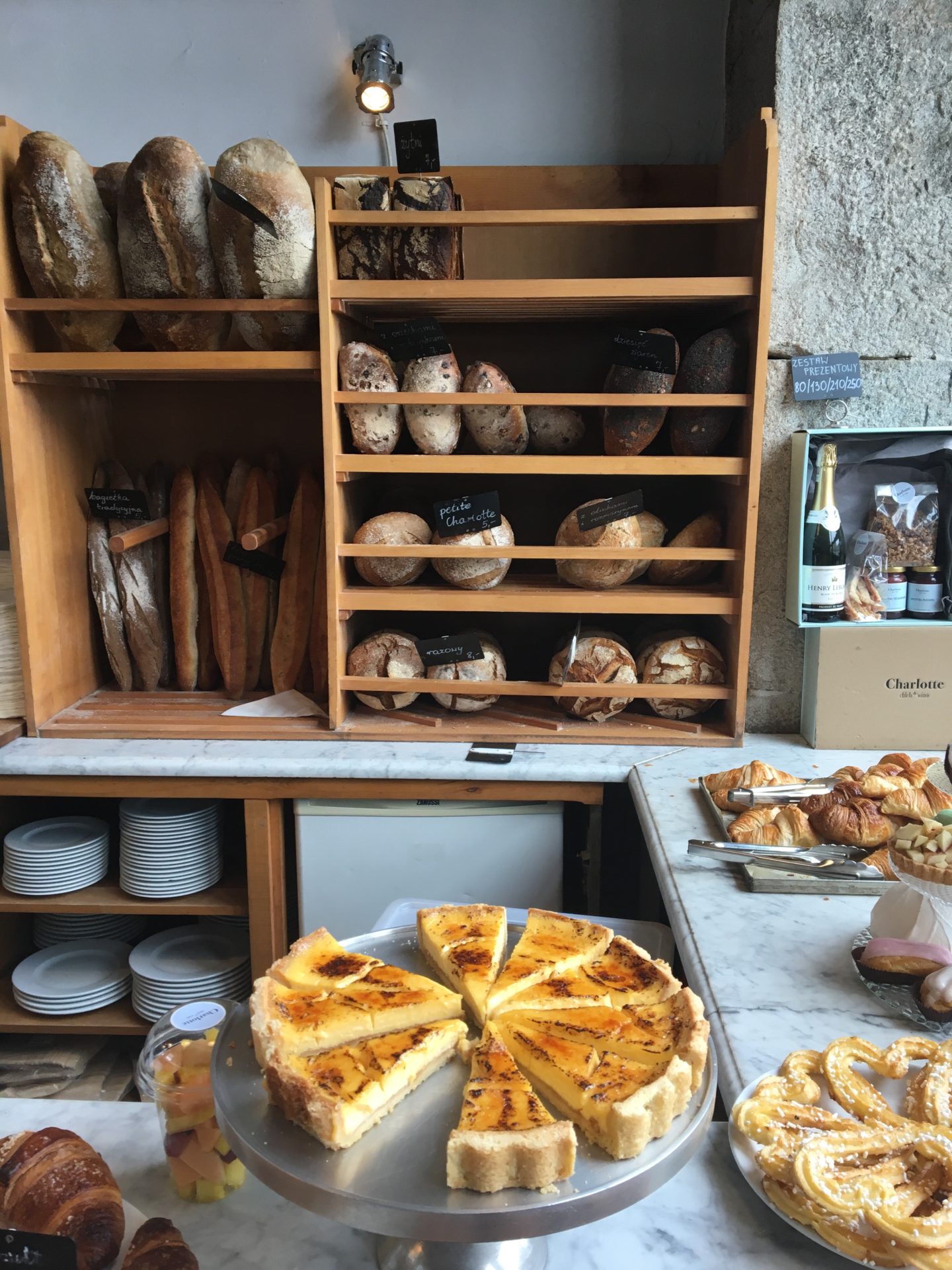 Zapiekanki w Okrąglaku na Placu Nowym – no, you can't leave Cracow without having a bite of zapiekanka first – a typically Polish hot open-face sandwich with mushrooms and onions.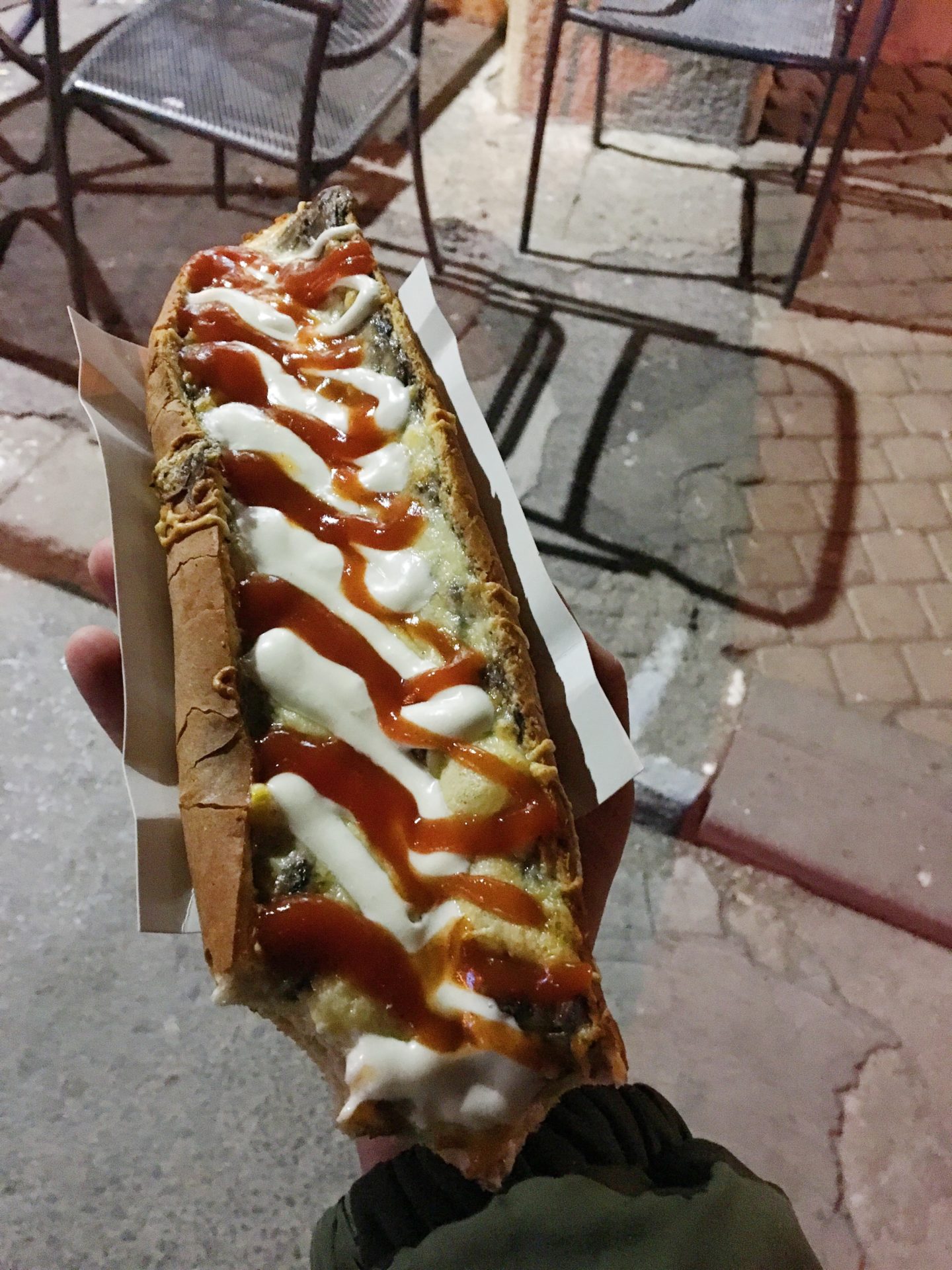 Handelek – Great sandwiches!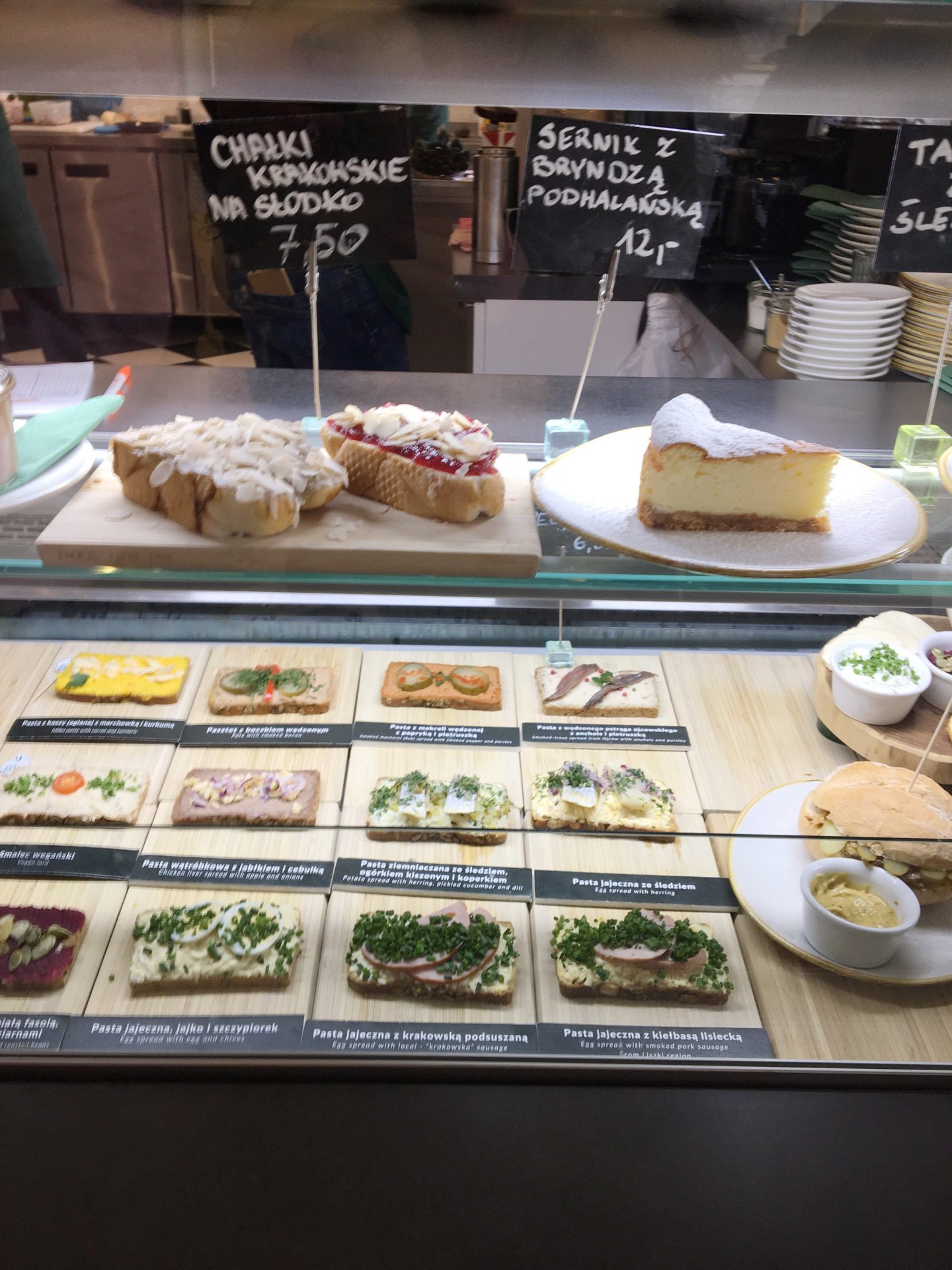 Bar Mleczny "Pod Temidą" – in the old town, cheap and tasty, especially the Russian-style dumplings are great! Read about the Polish institution of "milk bar" before going there to better appreciate your visit!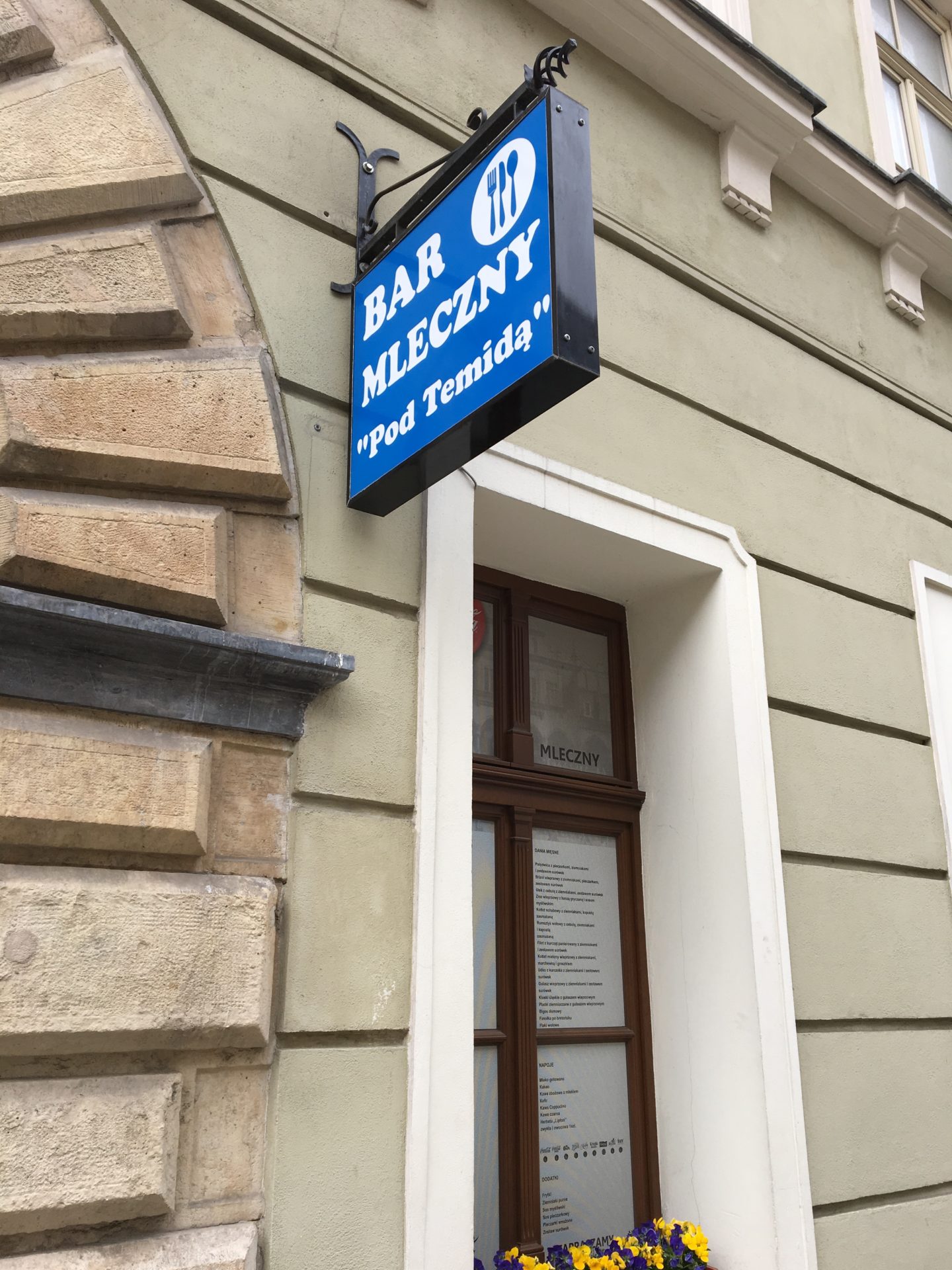 Humus Amamamusi – ANother place I'd read a lot about before visiting. I took take-away and it was very good.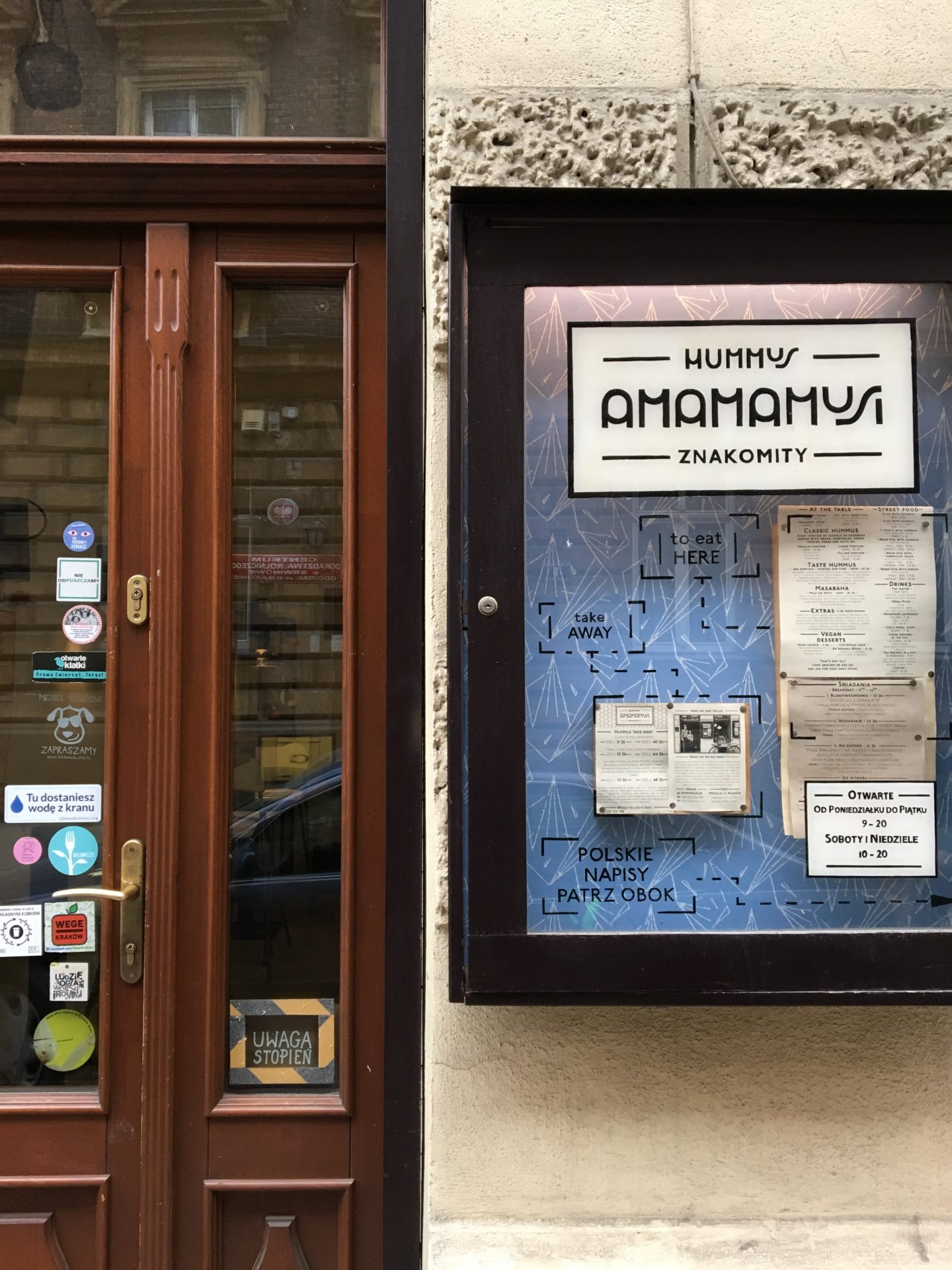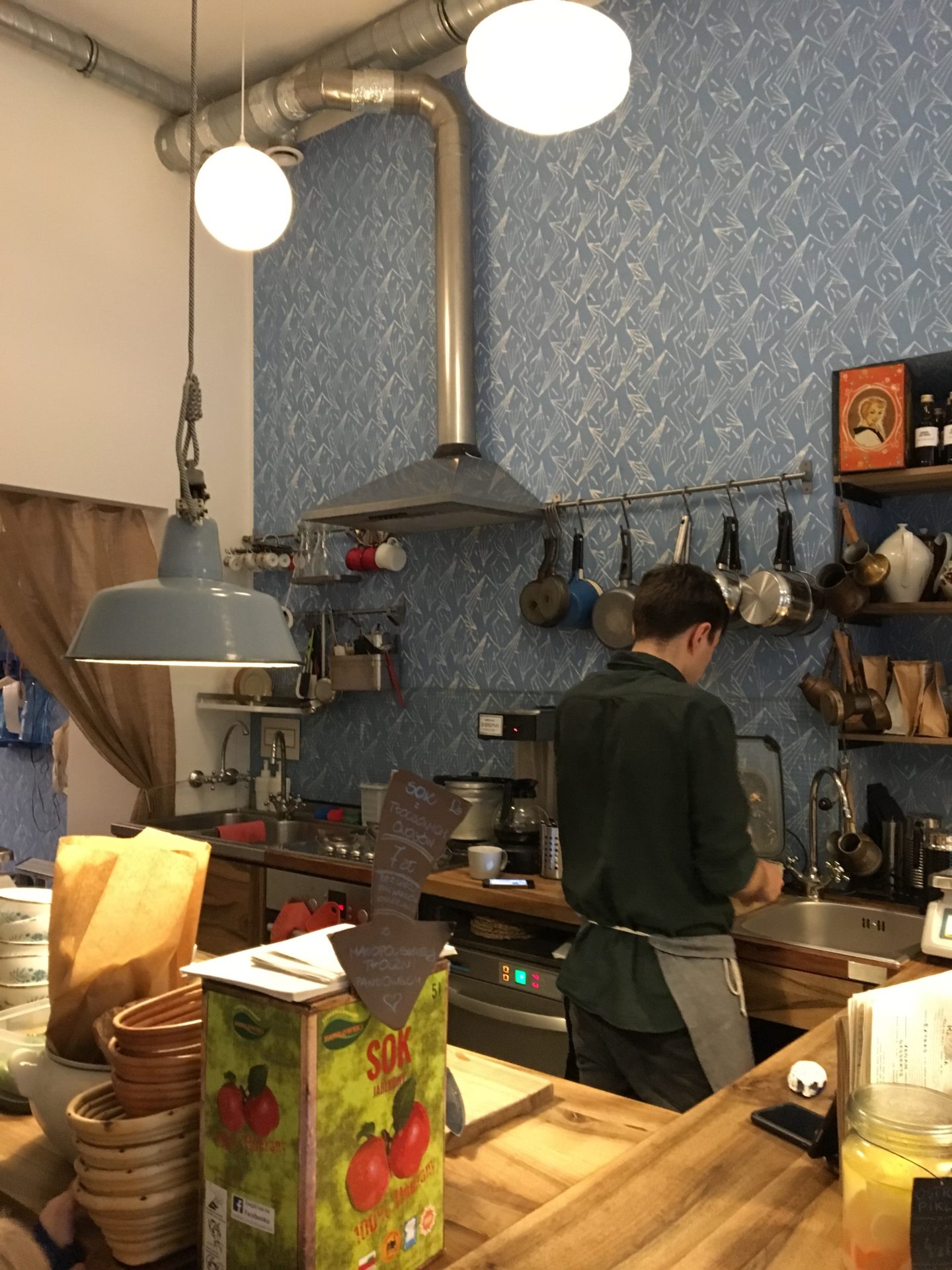 Cafe Tektura – Here we ate first breakfast in Cracow and it was really good.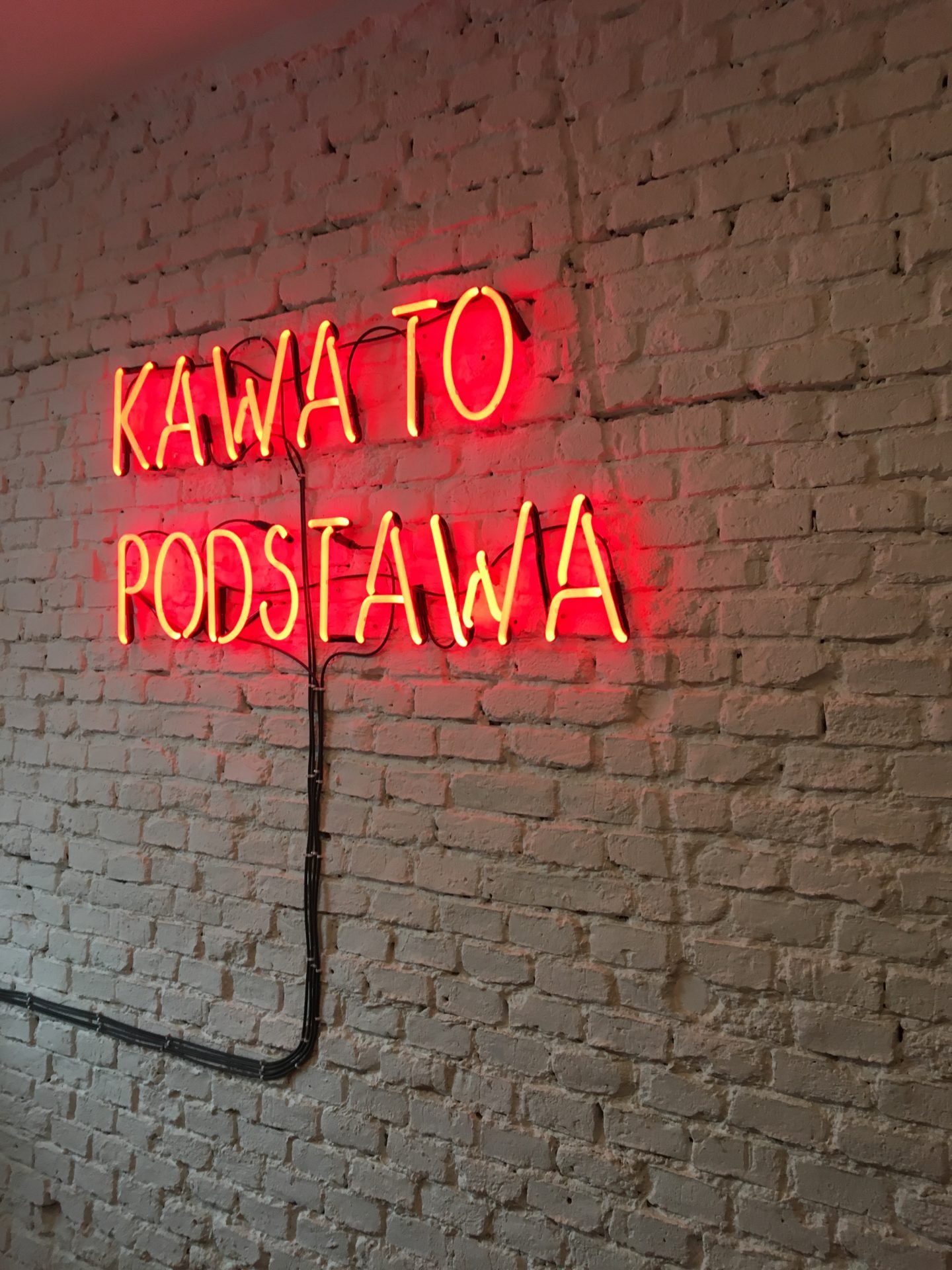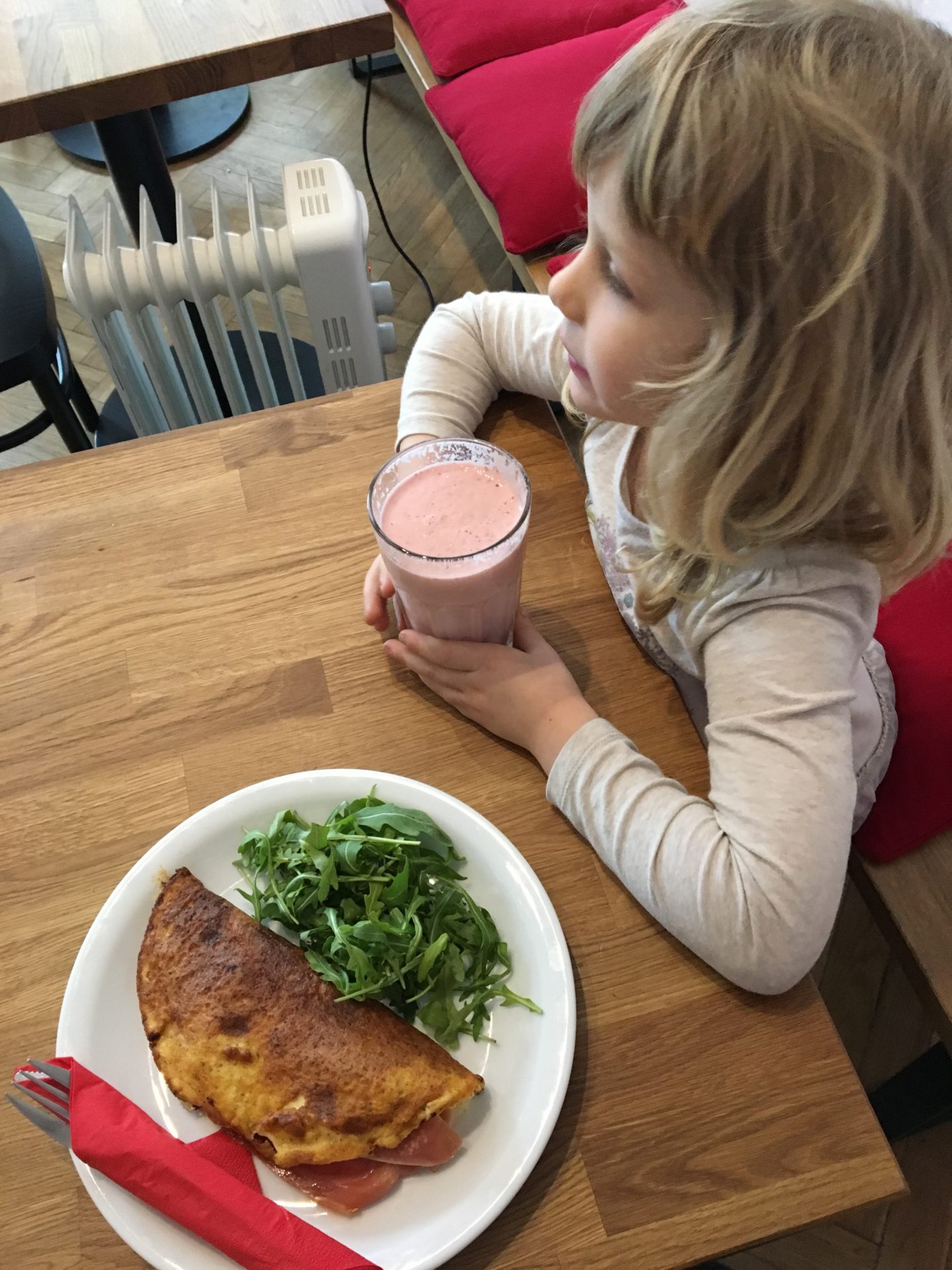 Now, let's move to my favourite part of every sightseeing visit: playgrounds.
Great playgrounds in Cracow
Ever since I joined a great FB group nieplac zabaw (not-a-playground) and got interested in the activities of the pracownia k. architecture office, I keep discovering great playgrounds in Poland where kids can really go wild. Whenever I learn about a new playground, I pin it on a map; I already have a very nice collection of them.
In Cracow we visited three great playgrounds:
In Park Krakowski (Cracow's Park) – a nice and creative place, full of challenges for older and fitter kids, but also with a less challenging part, suitable for the youngest. A vast, fenced area, great to let off some steam.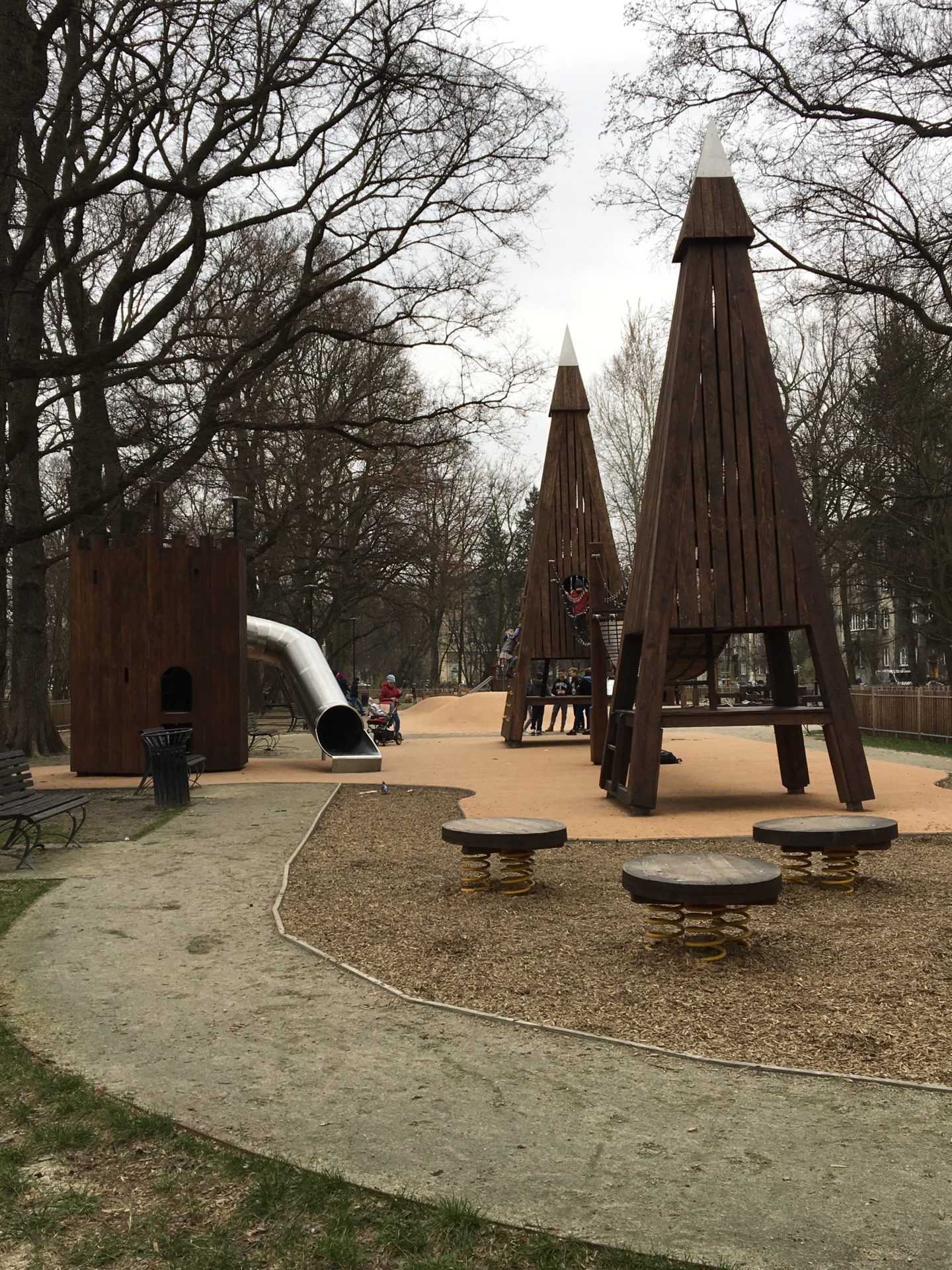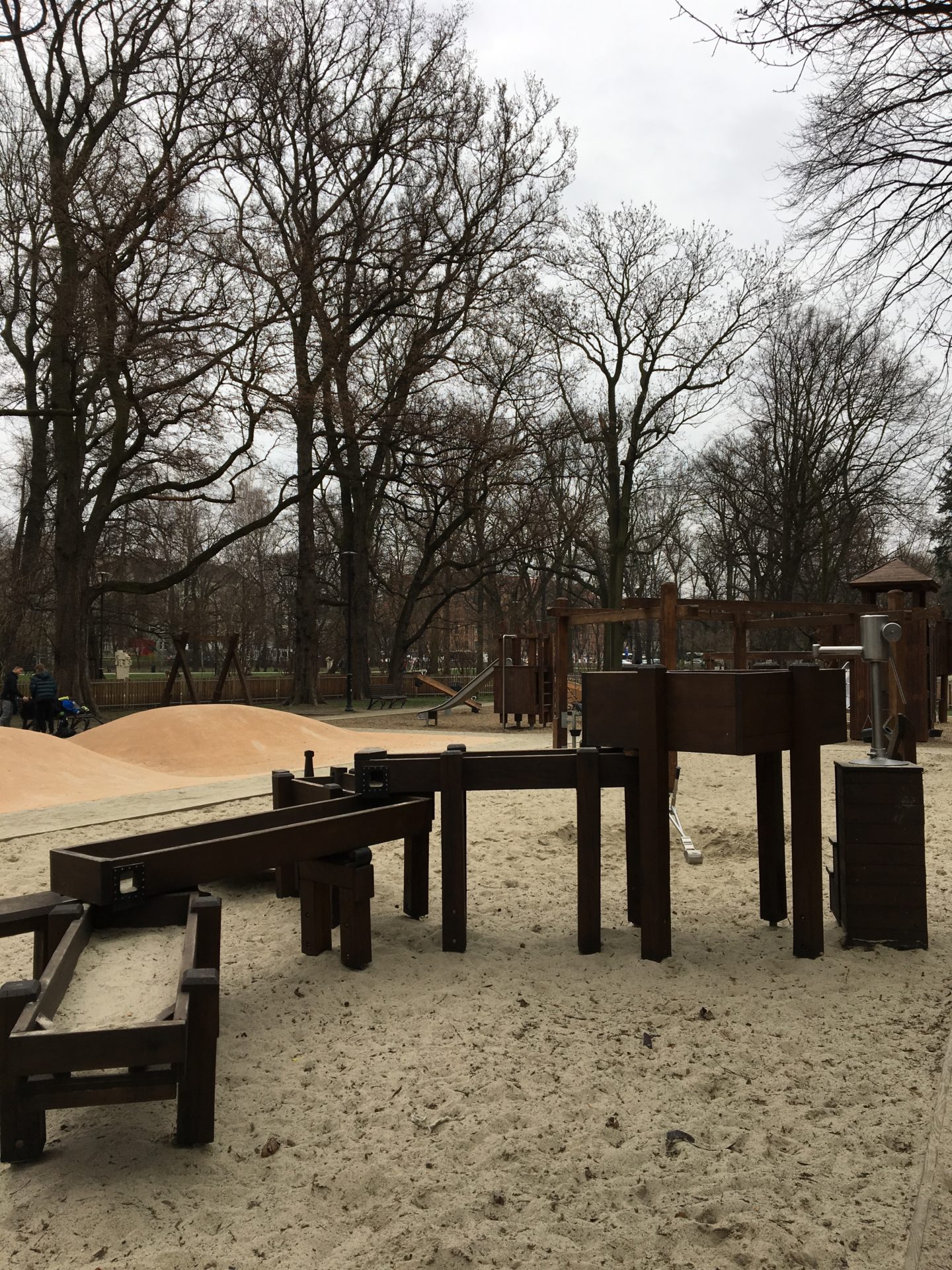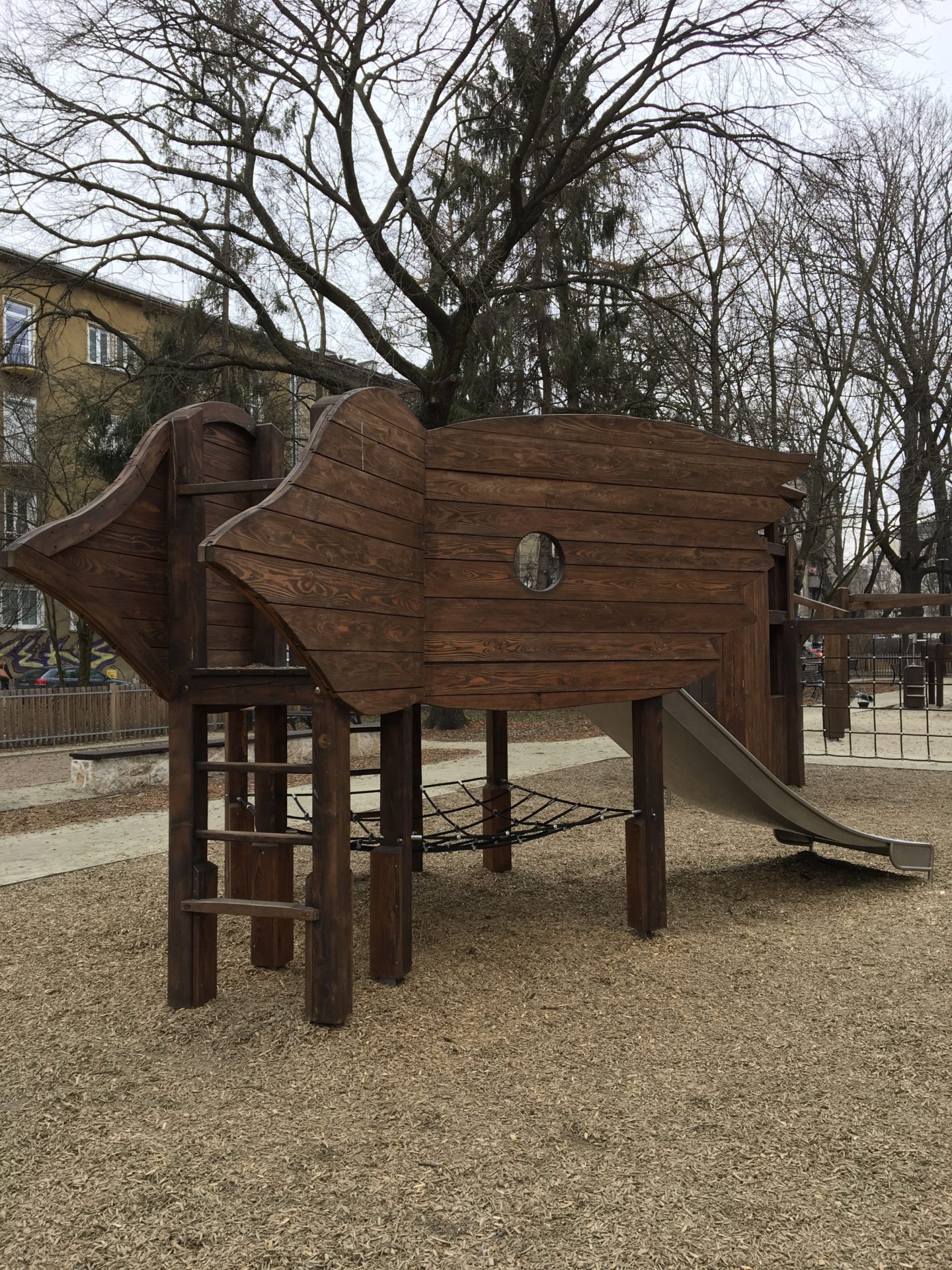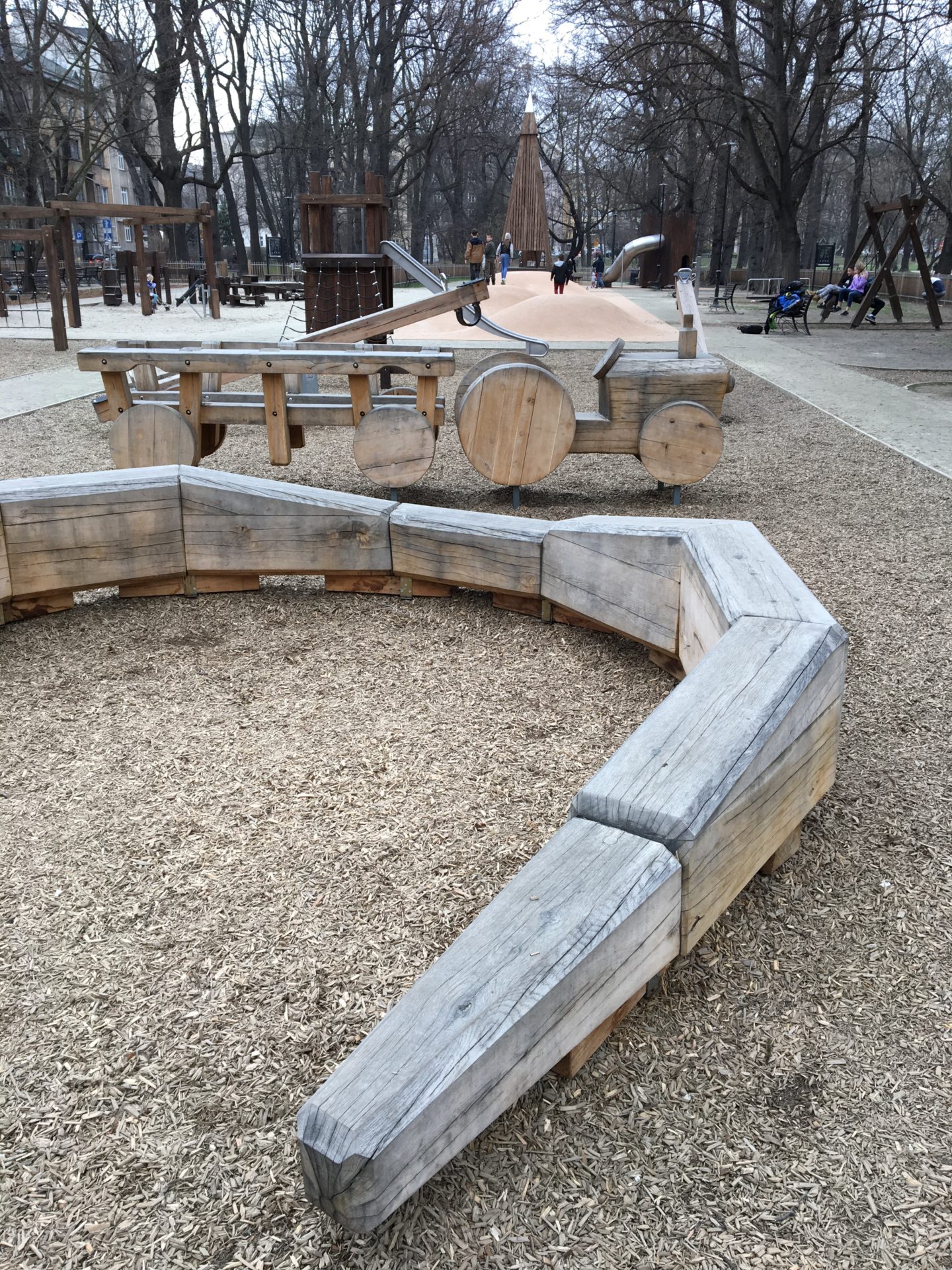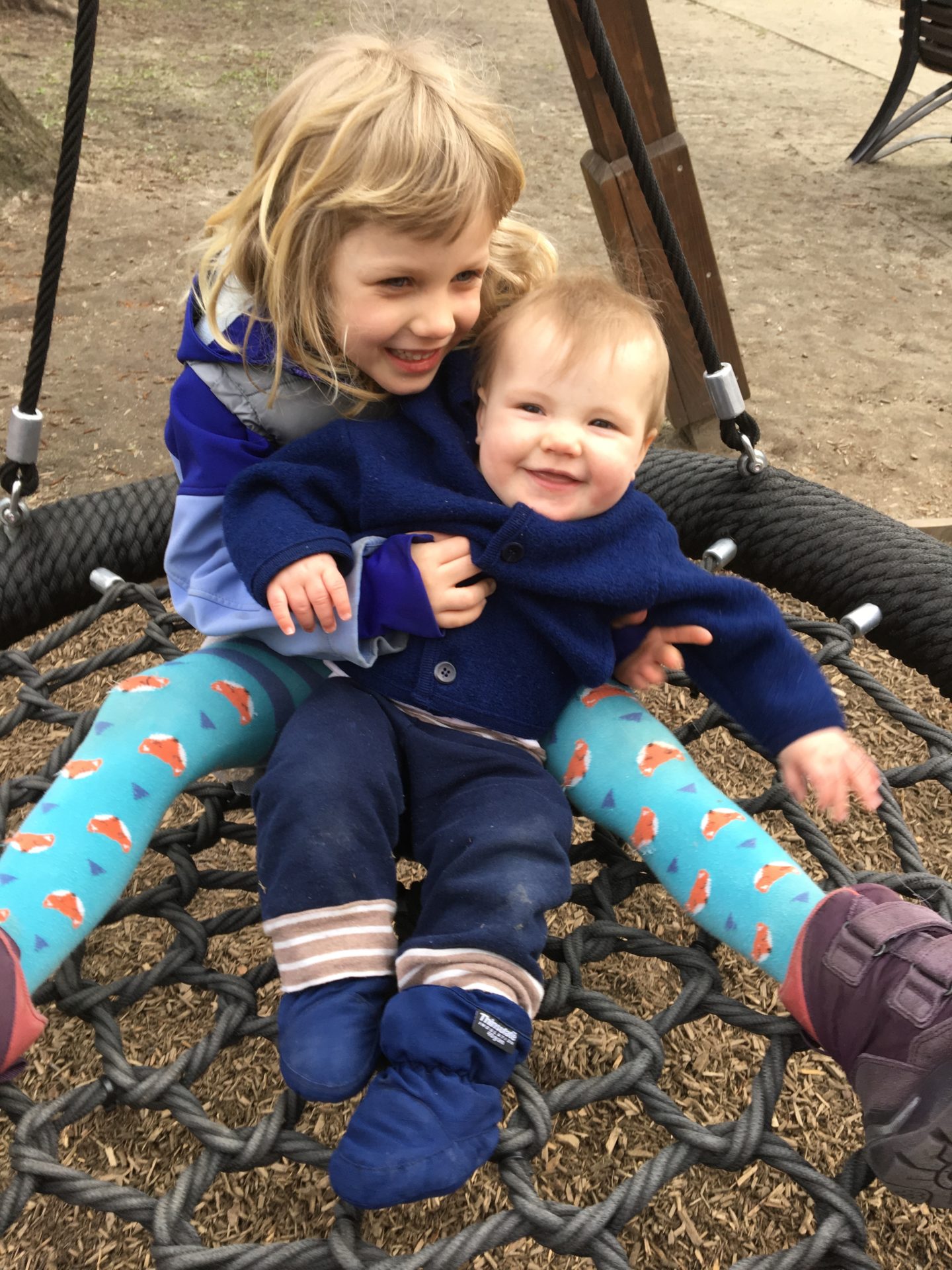 At Planty Krakowskie (Świętej Gertrudy 16) – a rather small place, more suitable for younger children (the older ones will feel too tempted to climb the "mushrooms", which unfortunately is not allowed), but I found the shapes and the materials used (wood) very appealing.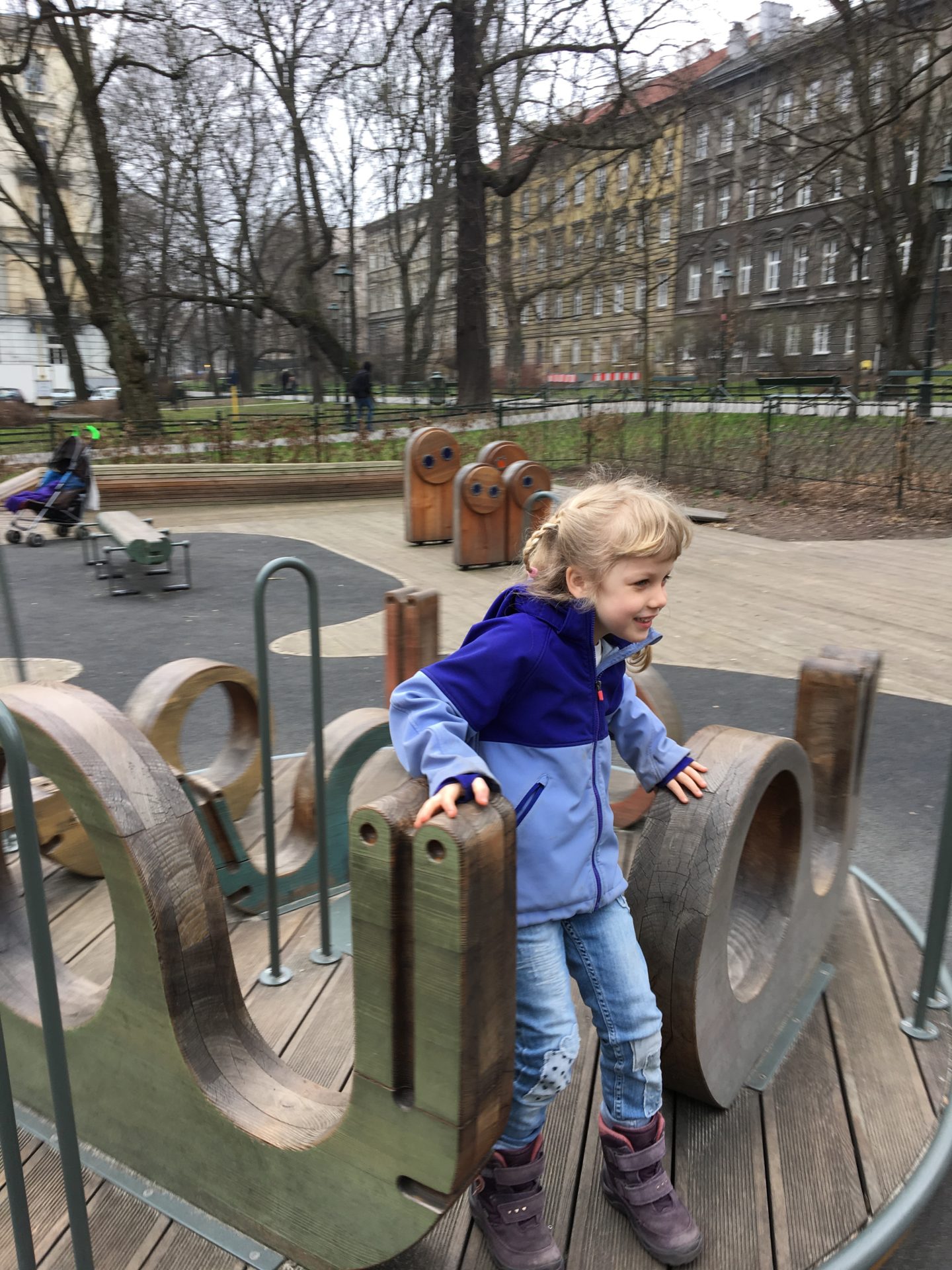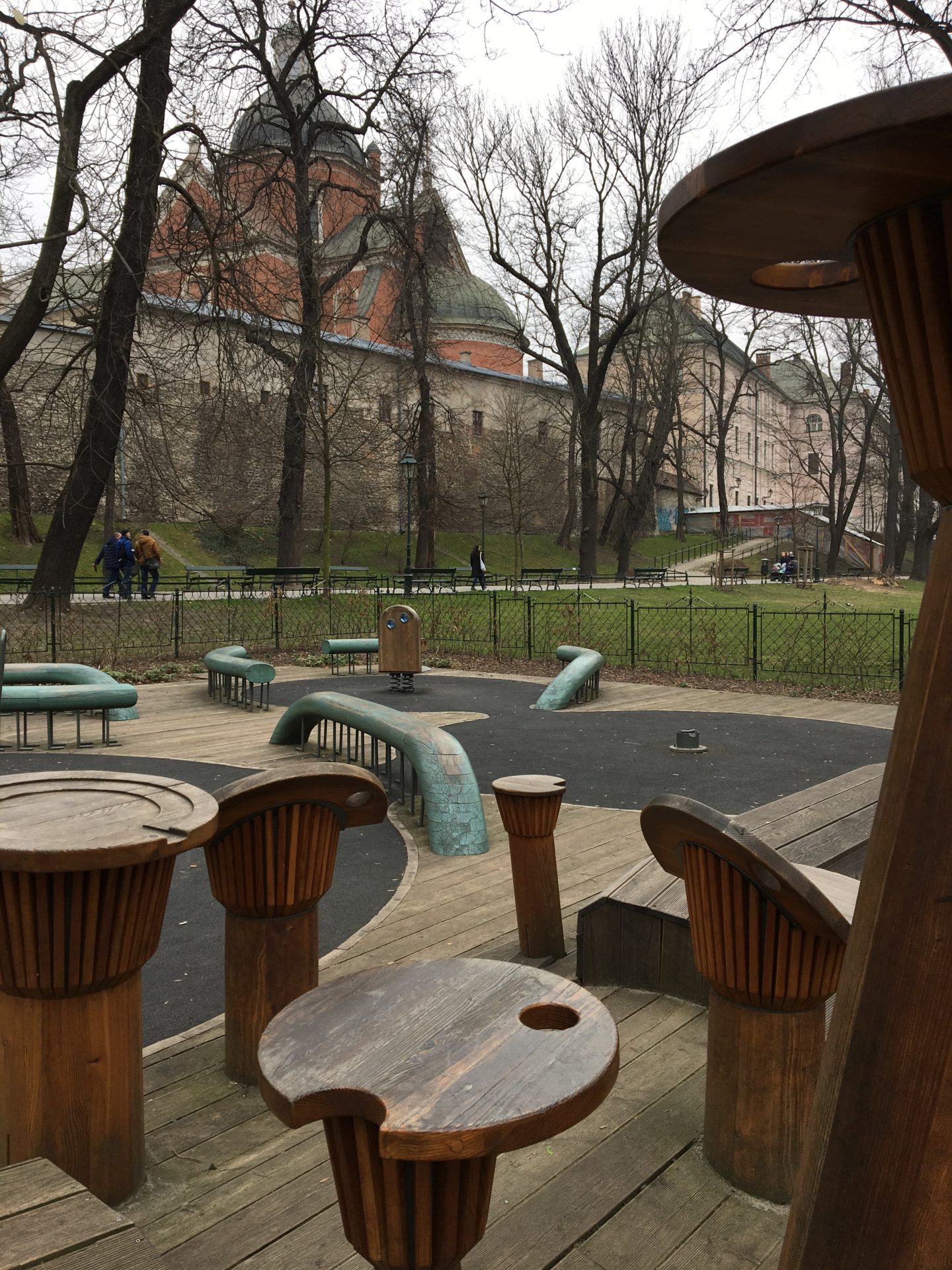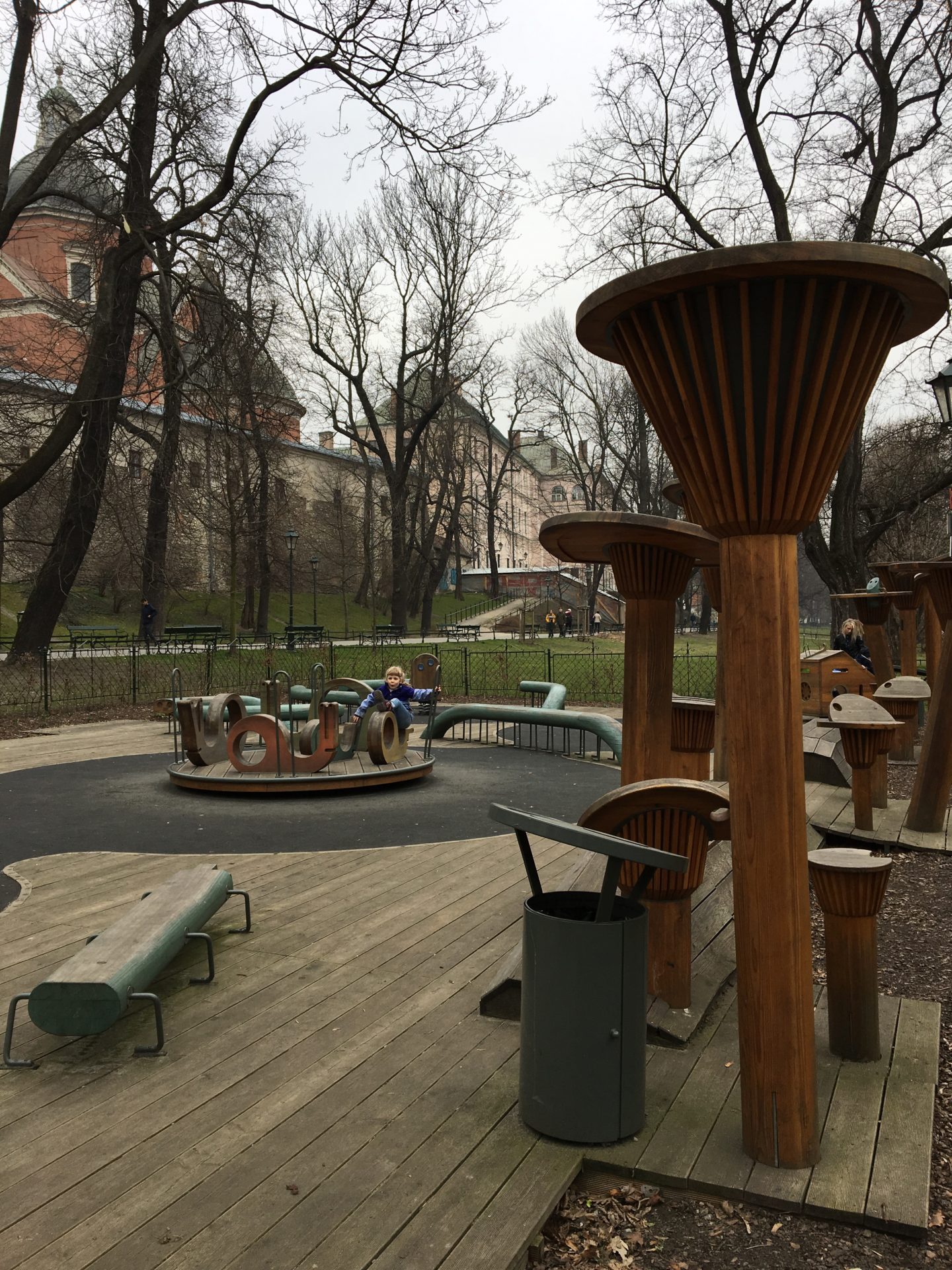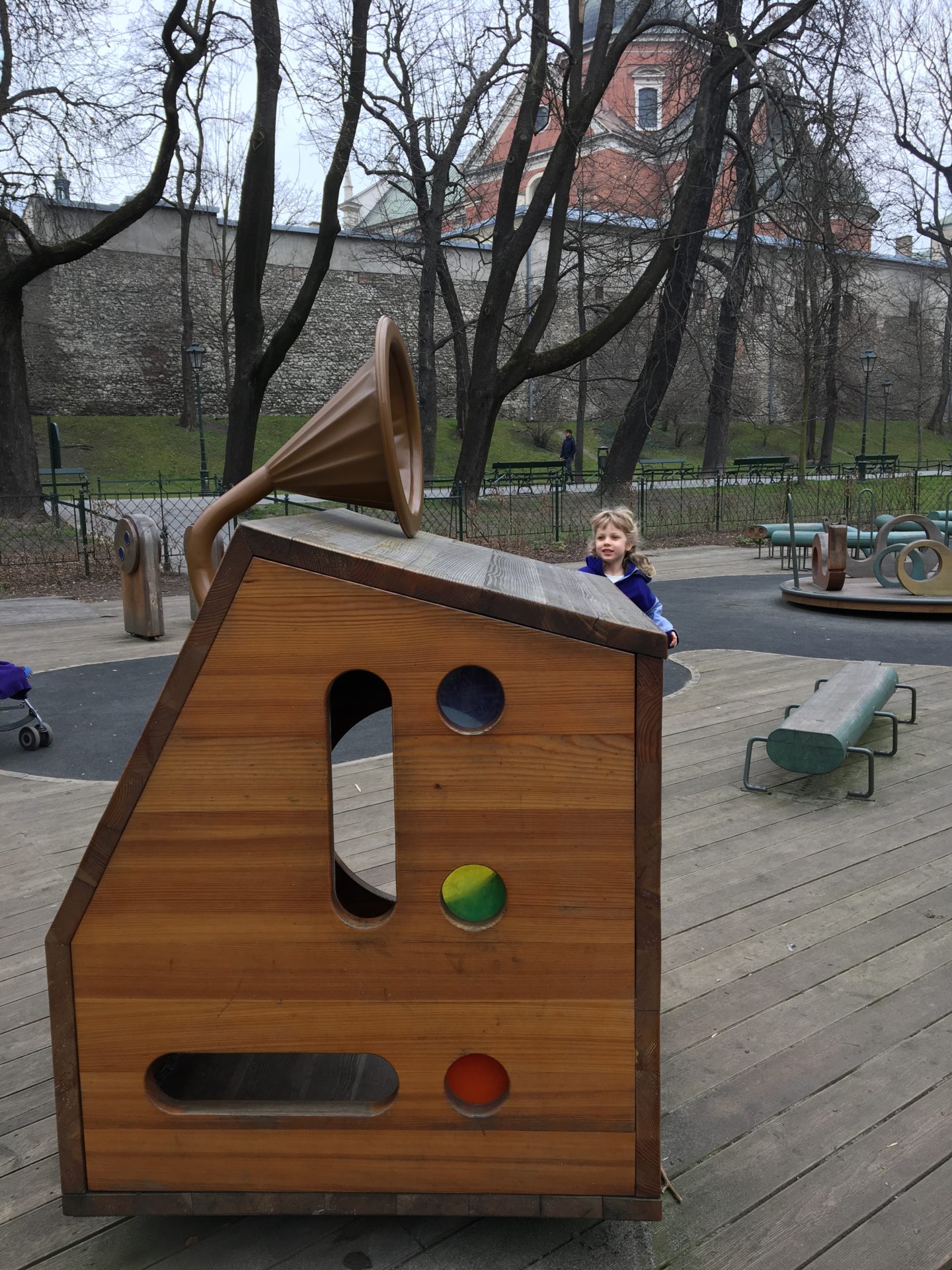 At the back of Muzeum Archeologiczne (project by pracownia k.) – a great place for both older and younger kids, full of creative surprises and nice educational ideas.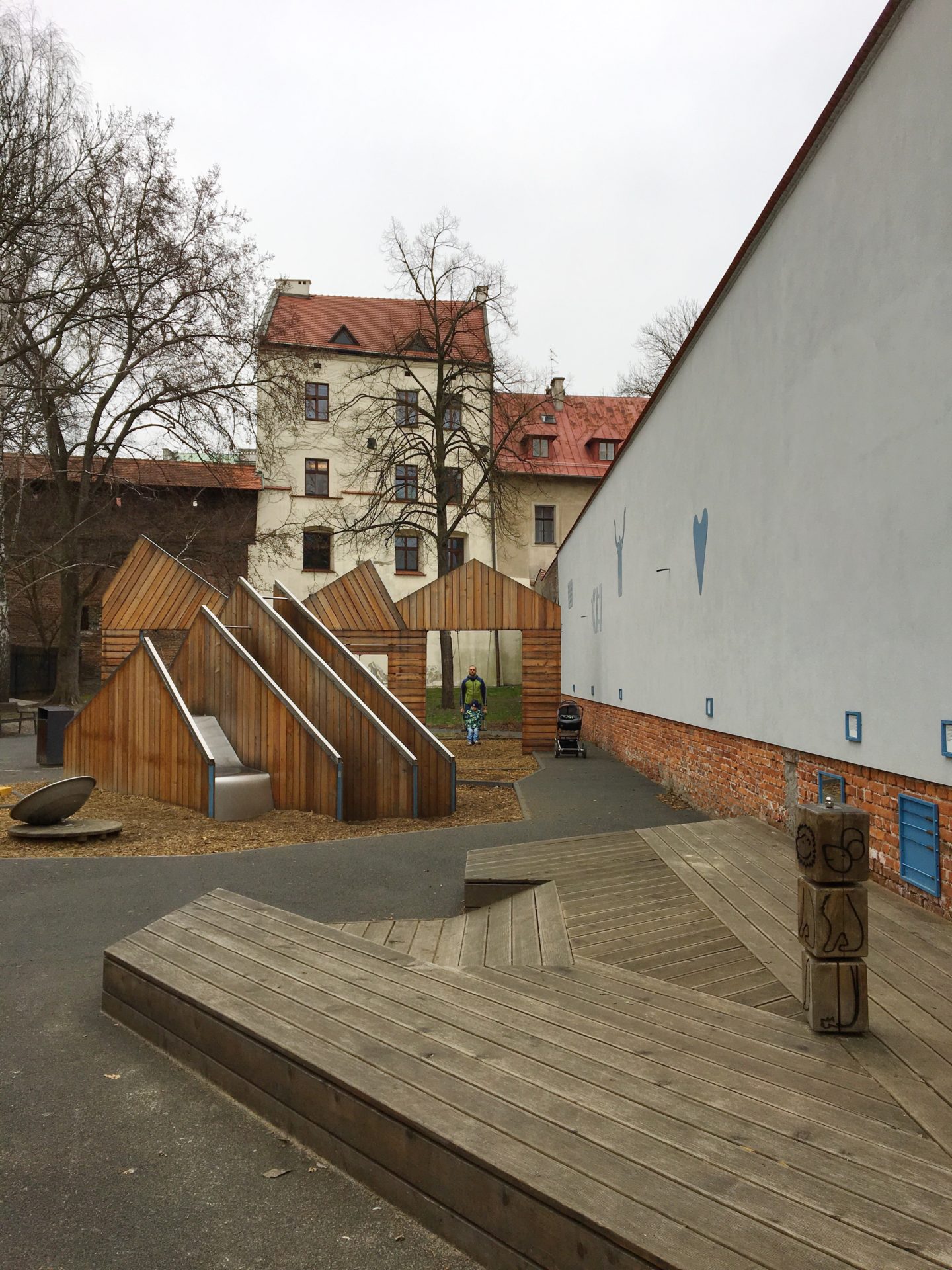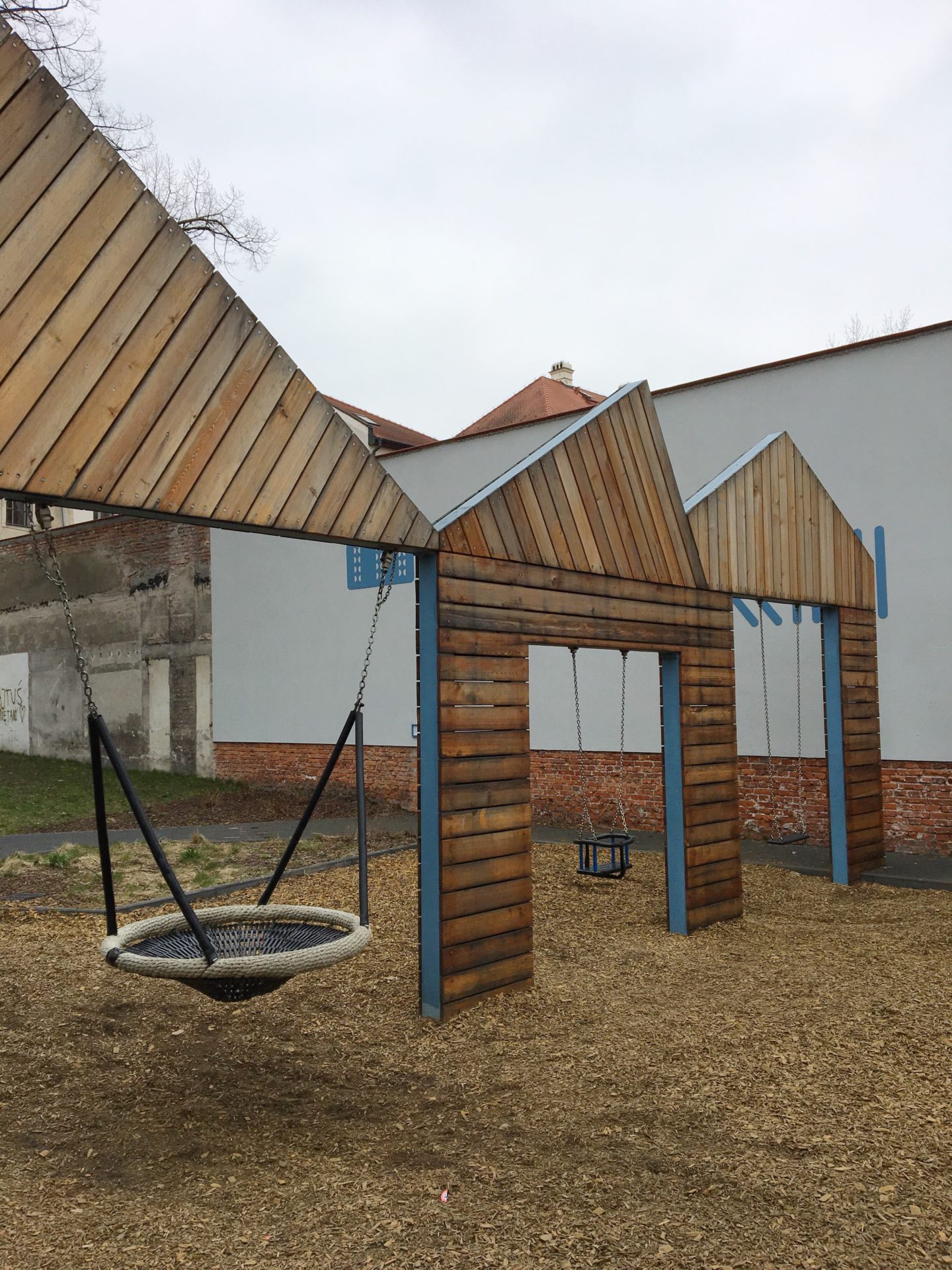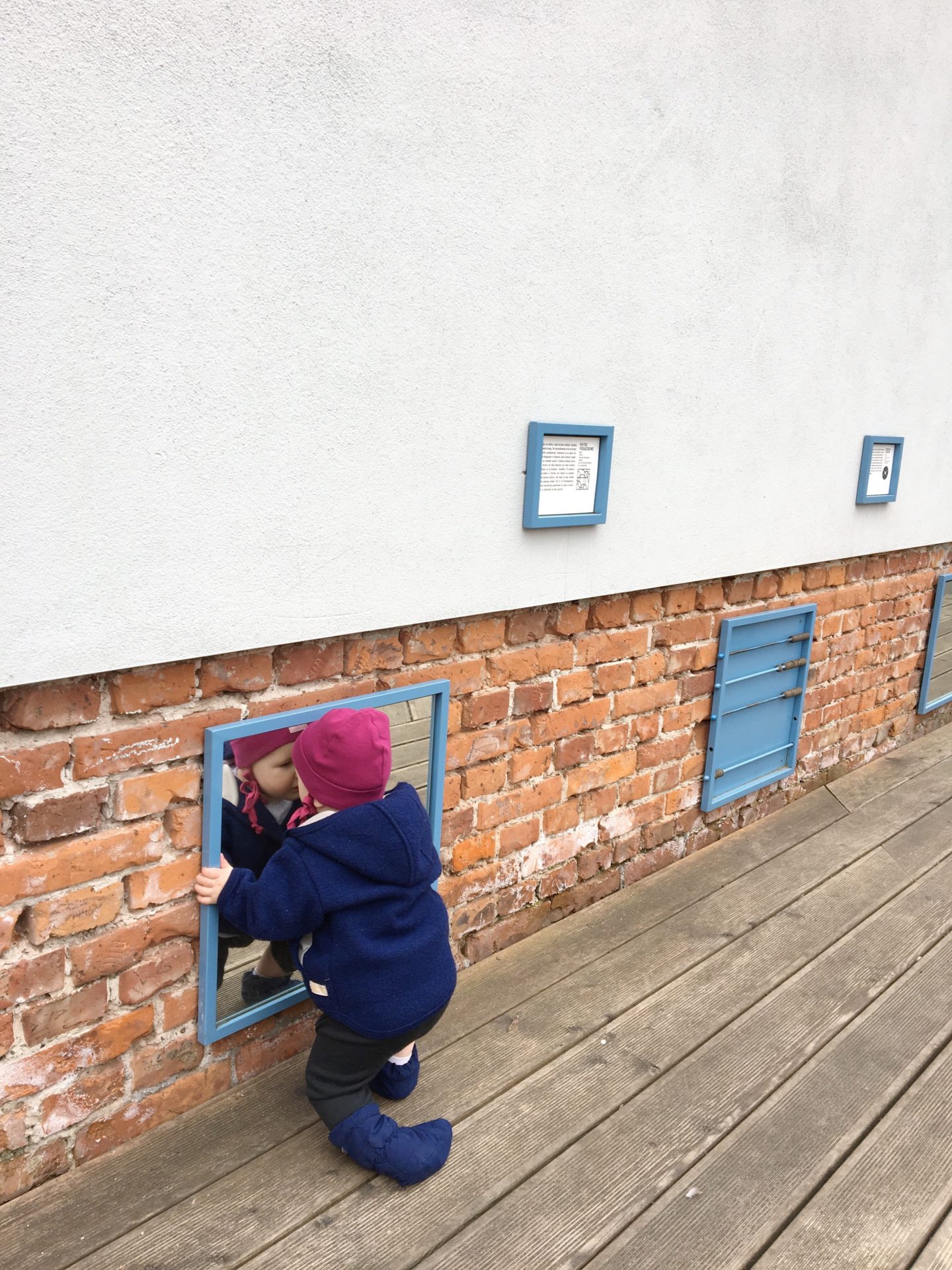 As you can see, our visit to Cracow was very intense. We loved it and hope to come back soon to check out the rest of the places on my list :).
Have a great time!